Summer is finally shining rays of sunlight on our lovely hometown of Ann Arbor, Michigan, and with it Backyard Brains is welcoming its newest bright minds from Michigan State University's Undergraduate Neuroscience department. Marta, Olivier, Alex, Cort, and Dylan met in the BYB office at the early hour of 10am (well, early for a college student during the summer!) Monday, June 2, to begin familiarizing themselves with the other members of the BYB team, our experimental procedures, and the plans for the next two months.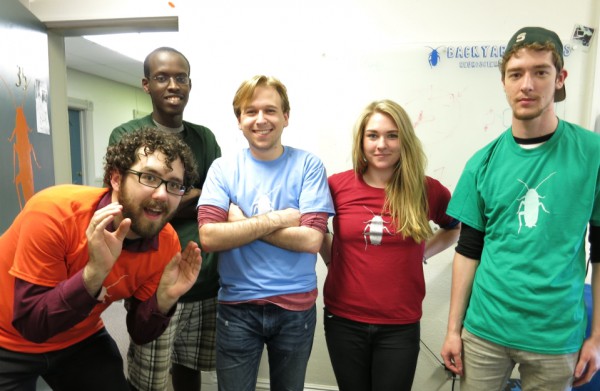 Each of the five students is planning on writing a research paper, with the goal in mind of each having a publication by the end of the summer. The topics include:
Operant Conditioning of Cockroaches
Four Channel RoboRoach
Circadian Rhythms of Cockroaches
Optogenetics with Drosophila
RoboScorpion
With the help of a few members of the BYB team, the students are already in the initial stages of methodological development. Each student was asked to lead a journal club this week, presenting an article relevant to their project. So far, the team has met to discuss the optogenetics and operant conditioning experiments, with a lot of valuable information being gleaned from group dissection of the papers.
Alongside publications, another goal of these projects is to bring them to the classroom as experiments that can be used to help educate future students. Cort's optogenetics project is especially exciting in this regard because this field of science has been a complete game changer within the neuroscience community and by bringing an optogenetics experiment into the high school classroom we can have students working with the same cutting edge methods that scientists are working with today. Using genetically modified drosophila expressing the ReaChR variation, Cort is excited to bring more knowledge about the specific neural coding of reproduction and sweet tastes to the scientific community and to the classroom!
There is not a lot of scientific literature on the circadian rhythms of cockroaches, but Marta is going to help change this. She is already beginning to plan ways to easily study and passively record information on the activity of the cockroaches in a controlled environment. This experiment offers not only the opportunity to learn about the roach's natural circadian rhythm, but also to analyze how different kinds of changes in their environment may affect it. Marta hopes to be able to design a methodology that will be easily replicated in a classroom, allowing students to begin hands on studying of the circadian rhythm!
Alex is the new Skinner of Cockroaches! Based upon some previous research done in the 70s, Alex is interested in the operant conditioning of cockroaches to affect changes in behavior. Alex is truly standing on the shoulders of giants here, as much research has been done in the conditioning of both vertebrates and invertebrates, but he has the unique opportunity here to develop a procedure which would allow the abstracts of these past research papers to be brought to life in the classroom for hands-on educational illustration!
Controlling a cockroach's left and right movements is great, what could make it better? This is the question Olivier is tackling as he seeks to develop a RoboRoach prep and board which would allow for four channels of input and forward/backward stimulation. Olivier is thinking about different way in which he could stimulate this kind of movement and is planning on tapping into the cockroach's cercal system to achieve forward/backward stimulation. This is an experiment which will help further our understanding of how cockroaches navigate through the world and it will likely lead to the development of a new roboroach backpack, allowing students to perform even more comprehensive experiments in the near future!
Finally, the RoboScorpion is perhaps the most ambitious of the projects, but Dylan is up to the challenge. Dylan is attempting to outfit scorpions with similar microstimulation backpacks to what we use with the cockroaches. No similar experiments have ever been performed on scorpions and, actually, not a lot is know about the specific sensory organs which scorpions rely on. Dylan is planning on using Desert Hairy scorpions as his primary subjects, at least initially, as he begins to experiment with methodologies. This experiment could potentially help lead to a greater understanding of the scorpion anatomy and its sensory response systems.
As I am writing this blog post during the afternoon of day two, the students are off and running. Mart and Alex are working on introductory learning of the Arduino programming environment, which will assist with the gathering of data in the Circadian Rhythm and Operant Conditioning experiments; Olivier is practicing the RoboRoach surgery and experimenting with electrode placement; Dylan is getting friendly with his scorpions; and Cort is meeting with a Fruit Fly Guy at the University of Michigan lab. Science is in progress and nobody could be happier! Check back frequently for more updates from the students themselves!