Four more years… of Science!
It is an exciting day at the Backyard Brains office! After much revision and consideration, we have secured further NIH grant funding to continue our development of neuroscience education tools and materials!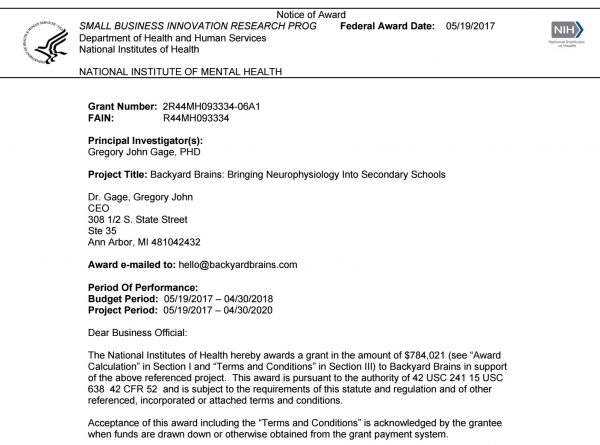 If you are unfamiliar, the National Institute of Health (NIH) is a federal agency that is responsible for performing and funding research in neuroscience, biology, immunology, and other health sciences.
We, like many other organizations and health sciences companies, could not exist without support from institutes like the NIH, and we are excited to continue working with the NIH to create new neuroscience tools, experiments, and teaching materials. This will make neuroscience more exciting and more accessible to students, parents, and teachers.
Grant funding isn't just free money… it is all carefully allocated and approved to be invested in specific projects. Our grant had three specific aims:
Develop new human physiology kits and experiments

Create kits for human-machine engineering projects

Develop a comprehensive 6-12 neuroscience curriculum
We are particularly excited because of the interdisciplinary nature of these projects. Working with kids as young as sixth grade, we have the opportunity to teach and excite students to learn more about their brain, about biology, engineering, robotics, electrical engineering, and more! With much of the money targeted specifically towards the development of our human electrophysiology experiments, we have big ideas for new tech and experiments for the EEG, EMG, and Human-Machine Interface (SpikerShield) kits.
Another important driver in our quest is the development of stronger and more cohesive teaching materials and curricula. To this end, we will be updating our existing experiments, revamping our teacher's guides, and weaving it all together to create a progressive, educational experience for students in grades 6-12. We are creating a classroom experience that integrates physical and web-based media and will get kids answering questions and then asking their own.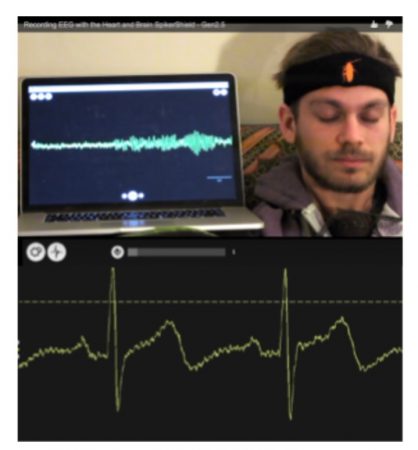 We believe that neuroscience and electrophysiology represent invaluable opportunities to get students engaged in STEM. Not every student we reach will become a neuroscientist… but we believe our work broadens the scope of subject  matter that students are exposed to. We've taught elementary school students about neurons, worked with middle school students on Arduino projects, helped high school students engineer their own brain-machine interfaces, and provided resources to undergraduate universities to enrich their neuroscience programs. We believe this work is essential for inspiring a new generation of passionate scientists and thinkers, because it is more important now than ever that we educate and inspire our students so that they may carry our torch and help it burn even brighter in the future.