This Friday 3pm – 7pm, Backyard Brains will be hosting an open house as part of this year's A2 Tech Trek! This is a fun, annual event which coordinates open houses at dozens of local tech companies. This event showcases the vibrant tech company and startup community in Ann Arbor and is a chance for the public to see all the cool development going on in "hidden" office spaces around the city. You never know what kind of cool tech could be living in the office suites above a Ben and Jerry's…
The event is free, but registration is required: Click Here to Register!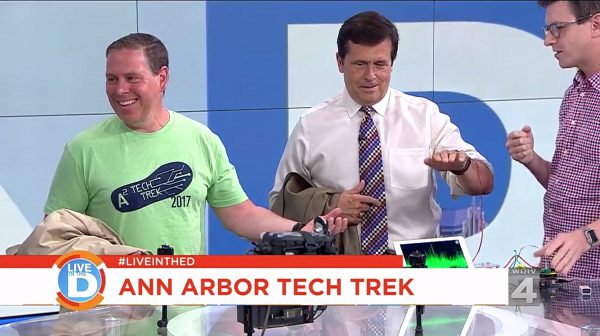 To help promote the event, BYB's Greg Gage was recently featured on Live in the D, a local news program highlighting events in Southeastern Michigan. Greg Gage recorded Chuck Gaidica's EMG signals and then, with the Human-To-Human Interface, helped Chuck control Bill Mayer of Ann Arbor SPARK, the organizer of the Tech Trek!
To see the video, follow this link:
We'll be at our office, located at 308 1/2 State Street, all afternoon to give demonstrations and talk shop! Also, our summer research fellows will be down at All Hands Active, a community makerspace located downstairs at 255 E Liberty St. They are excited to talk with you about their projects! In case you missed any of them, here are the research projects! Your homework is to come prepared with a question for one of the fellows! There just might be a free sticker in it for you if you do…
For more information on the Tech Trek, check out:
http://annarborusa.org/techtrek/
From their website:
"Ann Arbor Tech Trek is a free community event and a terrific opportunity to see the real gems located inside the doors of many area tech companies. It's also a chance to see what's unique about downtown Ann Arbor.
Leading technology companies will open their doors to the public and showcase their latest innovations. Whether you're a job seeker, student, professional, or someone curious about the Ann Arbor tech community, anyone is welcome to attend.
Each stop on the trek will create a fun, educational experience that reflects each company's unique culture. Those on the tour will also enjoy refreshments, prizes, t-shirts, and giveaways.
Tech Trek is a win-win for companies, community, and a great way for the youth to explore possible career paths."
We hope to see you Friday! Either at our office or at All Hands Active!