STEM Ed Toys of the Future!
BYB's adventures at Toy Fair 2018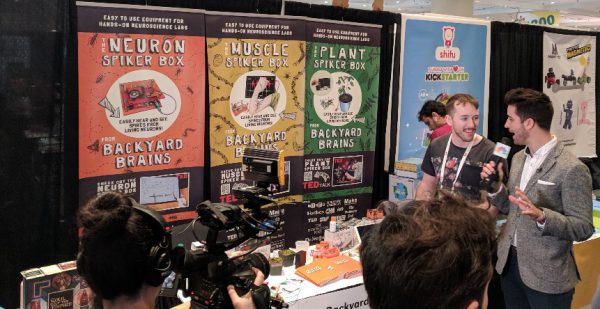 Toy Fair is one of the largest gatherings of toy manufacturers, distributors, and buyers in the world, and in 2018, we threw our hat into the ring! We've been at this whole DIY Neuroscience thing in an educational space for almost 9 years, and we thought it was about time to test the waters in the consumer market, and Toy Fair was a great opportunity to do just that: we were in the room with giants like Hasbro and ThinkFun, learning how we could improve the toy factor of our science kits. Our table was situated in the "Launchpad" section of the conference where other companies new to Toy Fair were also showing off their offerings! (Will got a sneak peek at some of the hot new STEM Ed games hitting the shelves this year during his wanderings–just you wait for Killer Snails the Card Game!)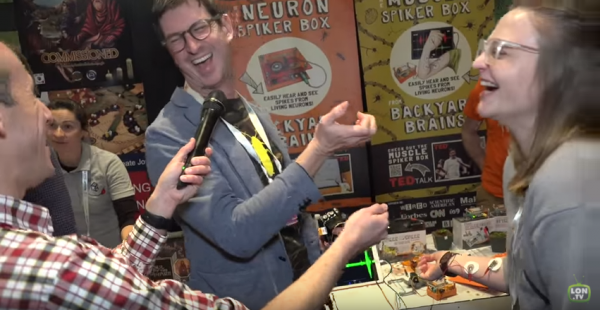 We did a lot of demos, we did presentations for press, and we did what we could to spread the good word: Neuroscience is here, it's important, and it's fun! A few local news stations featured us, helping amplify our voice. We demoed some new prototypes, and our stalwart Human-Human Interface was popular as usual. We were in new territory and a lot of people had never heard of us before, so it was a great opportunity to build new relationships and attract new attention.
Zach, our Development Engineer, said, "I enjoyed demoing to people who had never seen our kits before but are part of increasing the amount of STEM education tools.  We received a lot of great feedback from others in the industry about their experiences and issues that we can avoid.  It was also great to test out some of our new/updated products that we are developing." Zach's newest developments include the Neuron SpikerBox Pro and Muscle SpikerBox Pro, as well as the Plant SpikerBox, his little leafy baby.
His partner in crime at Toy Fair 2018 was Will, our resident Outreach Coordinator, poet, and maker of schpiels. He's been getting people to roll their sleeves up for science for a long time now. He said of the show, "I'm pretty used to explaining our work to educators and scientists, so Toy Fair was a totally new experience. I wasn't sure how non-scientists would react to the gear, but I guess I shouldn't be surprised that everyone loved the kits and wanted to try them for themselves! It was exciting to show so many people, for the first time in their lives, real neuroscience experiments and recordings from their brains and nervous systems!"
Toy Fair was a big success for us. We tried on a toymaker's hat to see if it fit, and who knows what the future will bring?