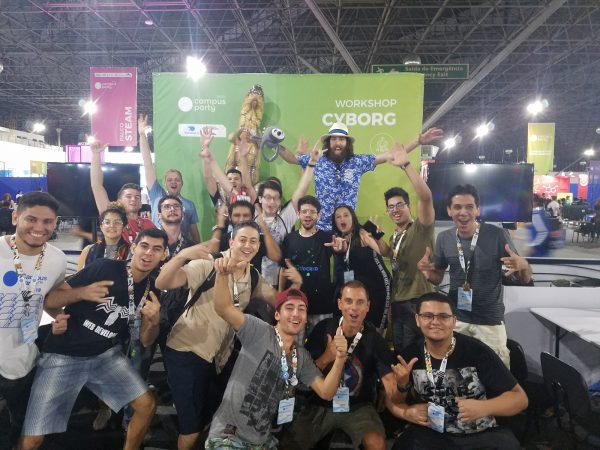 Before I spill the Feijoada about Backyard Brains' awesome experience at Campus Party Brazil, I should mention that I firmly believe that education can save the world. I should also mention that in regards to our brains, according to neuroscience research, your education lasts your entire life.
I'll cut to the chase: my recent Brazilian adventure with Backyard Brains has inspired me to write this to promote lifelong education and moreover, to remind you that learning can be enjoyable and even thrilling. It certainly doesn't have to be bound to a classroom. Keep in mind that evolutionarily speaking, survival did not depend on absorbing curated lesson plans 8 hours a day in a classroom, but upon chaotic and reactive information-gathering experiences.
At birth our brains develop at an extremely rapid rate. Babies form new neurons at a rate of 250,000 every minute! By the time a child is three years old, their brain will reach 80% of adult volume and create close to 1000 trillion connections between billions of neurons. There is a prevailing myth about the brain that after a certain age we stop forming new neurons. This has been dispelled by current research and it's clear that the brain has an amazing ability to change throughout life. This is called neuroplasticity and it's the brain's ability for our neurons to rewire and add new neurons in regions involved in learning throughout our lifetimes. Believe it or not, these new neurons show the same plasticity as seen in the rapidly developing brain of newborns. On top of that, the adult brain uses about 25% of the body's metabolic energy despite being on average only 2% of our entire body weight. So considering that a quarter of your energy going to supporting you brain, which has this amazing adaptability to develop and optimize throughout life, why not continually take advantage of your own brain's superpower of learning?
So, what if we threw super-fun, non-stop parties that were also packed full of learning opportunities? What if these events ran non-stop for up to a week straight? What if we invited world leaders of technology, entertainment, innovation, creativity and science to give inspiring keynote speeches and exciting, intimate workshops? Would the world become a better place?
No need to ponder any further: this type of forward-thinking, multidisciplinary educational party already exists! It's called Campus Party and Backyard Brains had a blast earlier this year at Campus Party Brazil!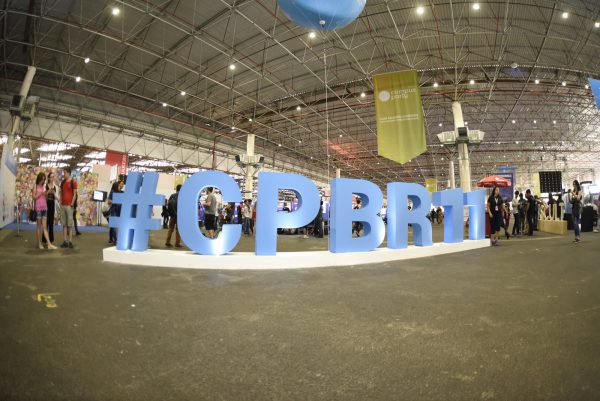 The very first Campus Party to happen in all of Asia is coming soon. This July 6th – 8th, join us at Campus Party Singapore! Backyard Brains will be there putting on two workshops each day. Come learn about neuroscience with us through fun hands-on experiments. You can create your own cyborg cockroach in the RoboRoach Workshop and control your friend's mind in the Human Interface Workshop. We hope to see you there!!

The Main Event
Each edition of Campus Party runs for four to seven days with mini events and activities such as lectures, workshops, hackathons, drone battles and maker competitions running 24 hours a day. This compelling, innovative mega-event churns out hundreds and hundreds of hours of content every time, covering a diverse spread of topics such as computer programming, art, astronomy, e-sports, maker communities, entrepreneurship, photography, gaming, small business startups, blockchain, internet of things (IoT), virtual reality (VR), green technology, computer modeling, augmented reality (AR), cybersecurity, rockets, open-source software, demoscence, rapid prototyping with 3D printers, artificial intelligence (AI), digital music and science, including, our favorite, neuroscience!
The Backyard Brains "neuroscience in a box" approach to bringing the NeuroRevolution fits perfectly with an event like Campus Party, an event buzzing with citizen scientists who willingly pack themselves into a huge building for four days of non-stop learning! The driving force of an event like this is as clear as day: It's the people. Their energy and commitment and diversity, and they were all mixing and mingling together.
This mix of people and organized-chaos education-packed environment ignites the brain's natural learning abilities. On top of that, it's a completely immersive event. The attendees spend every moment, awake or asleep, inside of the convention center. The sleeping accommodations for the attendees is truly a sight to see. Nearly half of the 400,000 sq. meters indoor space of Anhembi Parque conference center is lined edge-to-edge with colorful tents! Dwelling for nearly a week inside of one big building sounds like it would be a challenge, but the mix of entertaining educational events were engaging enough to keep everyone happily occupied, and there was an outdoor space called Campus B where the attendees let loose late night and work on their Brazilian funk dance moves. But aside from popping out to Campus B in the evening, as far as I could tell the attendance did not waver until after the event had ended. This was no lock-in, everyone there was right where they wanted to be.
| | |
| --- | --- |
| | |
One of the most exciting moments was Dr. Greg Gage's keynote speech on the first day.  We hustled up onto the stage and with haste got to digging through our toolboxes to quickly prepare the SpikerBoxes, Human-to-Human Interface, and the Claw for the presentation. The audience was boisterous, to say the least, and the excitement was contagious.  We learned quickly how to utilize a fun crowd-wide "call and response," which took us a few times to figure out but (at least for me) not long to abuse. I can only describe it as shouting out a crescendoing, "oooOOOH!" which the crowd echoes back louder each time and this exchange repeating typically three times over. It sure gets their attention and gets people hyped! These Campus Partiers knew how to have fun.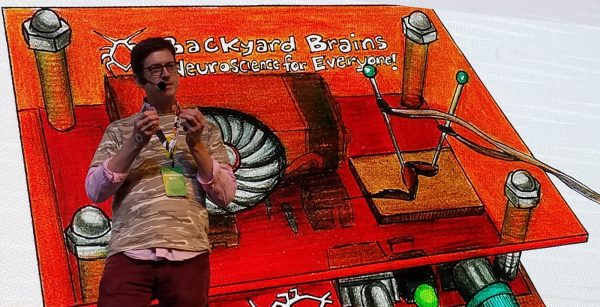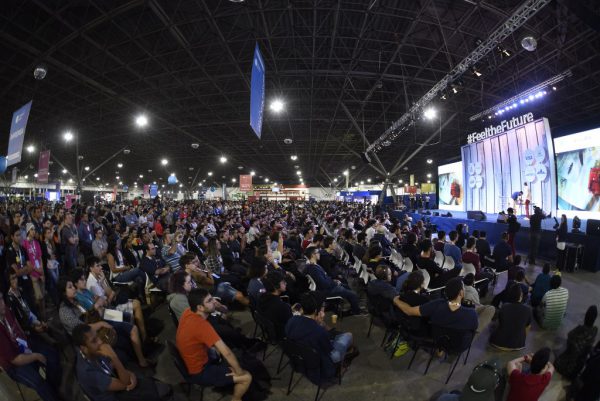 Dr. Gage, impressed as well, commented later, "It's not often that when we give a public talk that people will come up to me and want to discuss advanced neuroscience topics. This happened on several occasions, which tells you a lot about the culture around the youth that come to this event." The Campus Party drives this vibe and Brazilians amplify it. It was a perfect display of the thrill of learning at it's best.
The DIY Workshops
Personally, my favorite part of the whole Campus Party experience was sharing our interactive workshops. Our "Workshop Cyborg" arena was an area about the size of a regulation tennis court, with seating for 40+ people. Between Greg, Max, and myself, we led two workshops a day, for four days straight.

Our interactive Human-to-Human Interface Workshop is always a blast because we get to share with people their own electromyograms. Some may be observing their own EMGs for the first time in their life! Every movement of every one of your 650+ skeletal muscles (smooth muscles and cardiac muscles too!) is invoked by a few or many action potentials, or spikes of electricity. We love to see the illumination in attendees as they explore hands-on the electricity of the muscular system. The HHI experiment is the finale and consistently filled our space with more attendees and an abundance of laughter. Studies have shown that emotional reactions assist in memory creation, which sure helps us teach the neuroscience behind how it all works when our audience is all chortling and snorting in amusement as they watch as someone bio-commandeers their friend's arm.
In our RoboRoach Workshops, we dove deeper into learning about neurons and how they communicate with each other. It was exciting to see over a dozen attendees join in to try it for themselves and create their own cyborg cockroach. Only years ago this type of educational "bio-bug" exploration was available only in graduate-level research institutions. But here we had ambitious citizen scientists, ages 16 to Dad, participating in hands-on learning of electrophysiology. After the workshop, we were able to first-hand explore the wireless microstimulation techniques, similar to those used for treatment of Parkinson's patients, on some of the newly-cyborg cockroaches. It was amazing to see our 50-person-capacity space fill up, with the crowd spilling out all around of people interested in learning more.
During one workshop, as I was inquiring our audience on how many neurons each of us contains, a 15 year old girl named, Maria, shot her hand up with the correct answer, 86 billion neurons! She then added that something I had forgotten, schooling us all with the fact that it was actually a Brazilian scientist named, Suzana Herculano-Houzel, who first developed the technique to get such an accurate count of the neurons in an adult brain. I asked increasingly difficult questions towards the physiology of a neuron, Maria's hand kept shooting up with precisely the correct answer. I was blown away by this bright young lady and asked her if she'd like to come up and help me translate to Portuguese the rest of my presentation, which she had never seen before; perhaps unsurprisingly, she nailed it.
This is just one example of many consistently goosebump-inducing occurrences at Campus Party that convinced me that it was the best party around.  It leaves one with reassurance that the world is full of young lifelong students who are revved to change the world for a better. This is our mission. Backyard Brains strives to fuel a "neuro-revolution" in education sparking young minds to understand, study and hopefully contribute to research of this mysterious squishy three-pound lump of 86 billion highly interconnected neurons. The need is there. As we often cite, there are over 600 neurological disorders and according to a study done by the World Health Organization, 1 in 5 people will suffer from a neurological disorder in their lifetime. There are no known cures. There is still much to learn and discover. Educational events like Campus Party bring together a diversity of minds and knowledge all blended together with entertainment in a safe, sharing environment which positively cultivates young world-changers.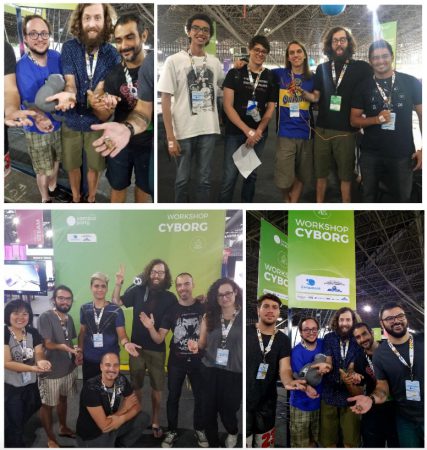 On behalf of Backyard Brains, we are so grateful for the invite to Campus Party Brazil and all of the hospitality that the organizers, volunteers, attendees and local Sao Paulo people provided us. Mucho obrigrado! Wherever you are in the world, I highly recommend to go to an upcoming Campus Party! See for yourself! I promise you will have a blast – and exercise your brain's incredible ability to learn all the while!