Hey, Zach here with another songbird identifier update! Since the last post, I have been busy testing the prototype device by taking bird recordings in various locations. After this week I will be taking a short break before resuming work on the project with the rest of the songbird team in the coming semester. Right now we are primarily planning for the next steps in the development processes that we will begin in September.
Our first goal is to add mobile internet access to the device so bird recordings can be automatically uploaded to our database as they are recorded. The ultimate goal is to design the device that is easy to set up and deploy, at which point it will automatically begin recording and sending data to our website and database where the recordings, geographical location, and classification data can be easily viewed by anyone. We're looking for a wireless chip currently. These are pretty cool, if you're unfamiliar, you can connect DIY devices to the internet via a cellular provider. You just need to buy a data plan and set up a SIM card, then your device can connect to a 4G network and send data wirelessly!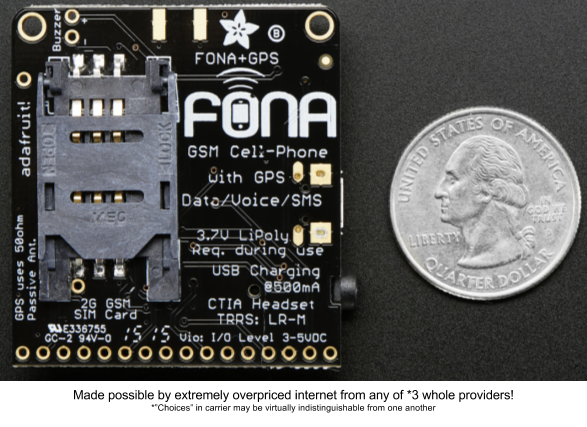 The second goal is to make the device autonomous enough that it can run this way for at least a week at a time without intervention. In order to do this, we must create some sort of weather proof housing for the device so the device can be placed anywhere.We also need to have a power source that can allow the device to run for at least a week continuously while keeping the cost of the entire system fairly cheap. This may involve a rechargeable battery pack and/or some sort of solar charger.
Now that we're beginning to actually build our prototypes, it is helpful to begin looking at other, commercial varieties…
The "Wildlife Acoustics Song Meter" is commercial wildlife audio recorder. Running around $1000, without software, it is a prohibitively expensive option for schools, students, or any sort of mass deployment.
The weatherproof housing on the commercial device is nice, and it features weatherproof microphones, which don't need to be an expensive feature. Additionally, this device runs for up to 400 hours continuously (using 4 D-Cell batteries) and features a "sleep mode," so it only records when it hears noise, and a recording scheduler, so that you can control what time during the day it takes recordings.
Looking at expensive options like this is encouraging, in a way. So far we have a prototype device which achieves almost the exact same results, just in a less durable package. When we've got the whole team back working on this project this upcoming semester, I think we can finalize a low-cost, web-connected, enclosed prototype which will be ready for long term testing and deployment.
Then we can focus on the exciting work, the signal classification and database so we can identify what songbirds the device is hearing and where in the country they are!
We'll keep you updated over the coming months, for now, it's time to enjoy my few weeks of summer before I'm back to school and we start back up with this project.