Last year, Sophia, 8, a young entomologist, was being bullied at school because of her excitement for and interest in bugs and science. Now, just one year later, she has been published as a junior author in the Annals of the Entomological Society of America!
With a craving which couldn't be curbed to capture, observe, befriend, and release as many insects as possible, Sophia, our intrepid grade-school scientist, continued to pursue the science which interested her, despite the fact that it was singling her out at school.
To encourage Sophia, her mother made a plea online for entomologists and woman scientists to send encouragement and support to Sophia so she could see a future in her passion and not be discouraged by how the other students at school treated her for her excitement.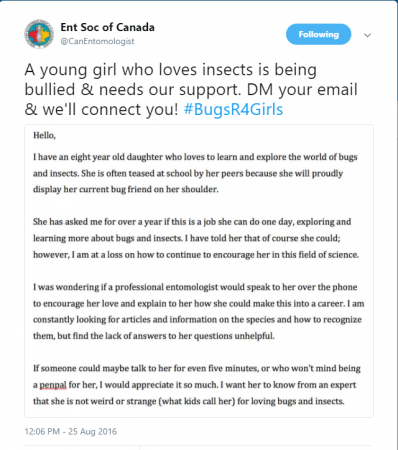 The effect was immediate. There was an outpouring of encouragement from scientists all around the world. Sophia was suddenly surrounded by supporters who were sharing their own research with her and encouraging her to continue studying and observing her favorite insects. Many even sent Sophia pictures of their own bugs and research and invited her and her mother to come out and visit their labs!
This viral sensation, when revealed at school, markedly changed how the other students viewed Sophia's excitement for insects.
In her words, "The kids in my school, whenever they find a bug they come and tell me and say "Sophia, Sophia, we found a bug!" After I was famous, sometimes people in my town would come up and say,"Hi, you're Sophia the Bug Girl!" and it makes me feel good." This is a prime example of the importance of science education and awareness, and an example of the mission at the heart of our company.
I suspect that in Sophia's case, like many others, it wasn't out of cruelty that other students teased her, but out of a lack of understanding. But once Sophia's story went viral, Sophia's interest in bugs was validated. Far from some weird hobby, it became clear that her passion for entomology was actually a very celebrated and important pursuit.
Sophia's story inspires us because our neuroscience kits and experiments are made with the hope that they reach the hands of young, passionate scientists like her, who, with a thirst for knowledge, are able to perform science experiments and make meaningful discoveries. And, like Sophia, our work stems from an appreciation of insects, and thus we know what it's like to be called "bug people!" We're often first recognized by the cockroach emblazoned on our T-Shirts, and we see this distinction as recognition and validation of our work! We have a lot to learn about ourselves from insects, evidenced in our own research and in the research of many others!
Our favorite insect, you might have guessed, is the cockroach. We like them because they are hardy, large, easy to care for, and are often given a bad rep in popular media. We've done what we can to flip the script, to prove that cockroaches, like any more socially acceptable insect, are not inherently dirty or gross; rather, they are beautiful bugs that offer us an opportunity to learn about and teach neuroscience!
Often, students react with cries of "gross!" when we show them the cockroaches, but before long they begin to realize just how cool and interesting these bugs are. We take care of our cockroaches and encourage others to do the same, returning them to their colonies after performing experiments so they can continue to romp around their egg-carton mazes and chow cockroach kibble in peace.
We're not sure how Sophia feels about cockroaches, but in her published paper she proclaims, "My favorite bugs are snails, slugs, and caterpillars, but my favorite one of all is grasshoppers. Last year in the fall I had a best bug friend and his name was Hoppers."
In fact, you may recall one of our own student research fellows was also recently published for a paper she wrote on grasshoppers! Dieu My, our fellow, created an experiment to learn about the grasshopper's nervous system.
In the experiment, an iPad is used to create a dot which appears to come rushing at the grasshopper from some distance away, simulating a looming or approaching object. When the grasshopper sees the dot fast approaching, it sends "flight" signals to its legs which, in nature, would cause it to quickly jump away.
With this prep, Dieu My was able to record from this part of the Grasshopper's nervous system, called the Descending Contralateral Motion Detector (DCMD), to better understand how fast and how effective this reflex is. Then, after the experiment, the grasshoppers are released back into the wild!
Just as we were excited about Dieu My's first publication, we are also excited about Sophia's first publication! The paper Sophia contributed to was written in response to the viral effect of Sophia's story. Morgan D. Jackson of University of Guelph, Ontario, authored the article with Sophia's help. The focus was on the importance of scientific communication and the effect that social media can have on bringing positive awareness to the field. Tracking the story from initial tweet to viral impact, the paper seeks to identify just what made Sophia's story and appeal so compelling. It concludes that Sophia's story afforded many scientists a chance to "spread their influence and enthusiasm across the globe and into the homes of hundreds of people who may have felt similarly alone or ostracized."
We hope that this young scientist keeps on pursuing whatever interests her, no matter what other people think. If she continues to be interested in bugs, great! But if she decides to become a computer scientist, an engineer, a chemist, a biologist, or whatever else might catch her interest as she grows and learns more about other fields, we hope that she is successful and has no lack of encouragement or support.
This young love for science is what inspires us to continue to create tools and experiments for young people to begin similarly pursuing their interests. If you are a young scientist, the parent of a young scientist, or know a young scientist, we'd love to hear from you! Interested specifically in neuroscience or not, our field is one which is made strong by community and support systems. Scientists succeed together, feel free to send us your story at hello@backyardbrains.com and we'll do what we can to encourage and support you!
…
We first heard about this story via an article on Science Alert and found a great photographic write-up of the saga on Today. And finally, here is Sophia's published paper.