Bill Nye Under Mind Control?
Don't worry – it was just temporary!

Earlier this year we received an order for a Human-Human-Interface that had our team glowing with excitement. It was addressed to none other than Bill Nye and one of his producers on Bill Nye Saves the World. In this recent Netflix show, Bill Nye and his science correspondents dig into the world of popular science, investigate the unknown, debunk misconceptions, and spread awareness of issues that the scientific community works to tackle every day.
In the last episode of the third season, Bill Nye and his correspondent, the hilarious and insightful Joanna Hausmann, experiment with some mind control… Bill hooks Joanna up to the Human-Human-Interface and describes the neuroscience behind the experiment before Joanna takes total control of Bill. For Bill Nye, Neuroscience has never been more exciting!
Check it out on Netflix: Season 3, Episode 6 of Bill Nye Saves the World! You and your students will enjoy seeing the clip as much as Joanna enjoyed controlling Bill!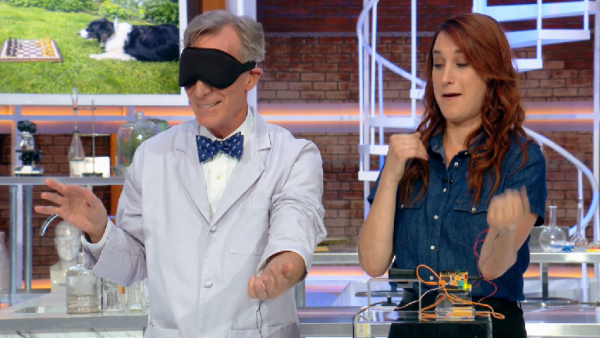 Required Kit:
Human-Human-Interface