The Khan Academy "2020 Breakthrough Junior Challenge" comes at a time when student engagement in STEM is more critical than ever. If you are a remote student or are a professional (or maybe parent!) educator attempting to transition rapidly into remote/home teaching strategies, this could be an excellent opportunity to turn an at-home-assignment into a tremendous opportunity for your students!
Khan Academy's 2020 Breakthrough Junior Challenge
This challenge encourages students to investigate a complex idea and then create a video that explains it in an interesting, accessible, and eloquent way!
Here is a description direct from Khan Academy:
"We're proud to partner with the Breakthrough Junior Challenge video contest again this year. Students ages 13 through 18 are invited to create a short (under three minutes) video explaining a challenging concept in physics, mathematics, or the life sciences in an engaging, illuminating, and creative way. This year, there is an additional COVID-19 category, and students are encouraged to help educate the world about this global health crisis by sharing the science or math behind the causes, impacts and potential solutions. If you win, you'll receive the college scholarship, your teacher will receive a $50,000 prize, and your school will get a new $100,000 science lab!"
You read that last sentence right: The winning student will receive a $250,000 scholarship, their teacher will win $50,000 worth of funding, and the school will receive $100,000 worth of funding for the renovation or development of a new science lab!
Making Complex Ideas Simple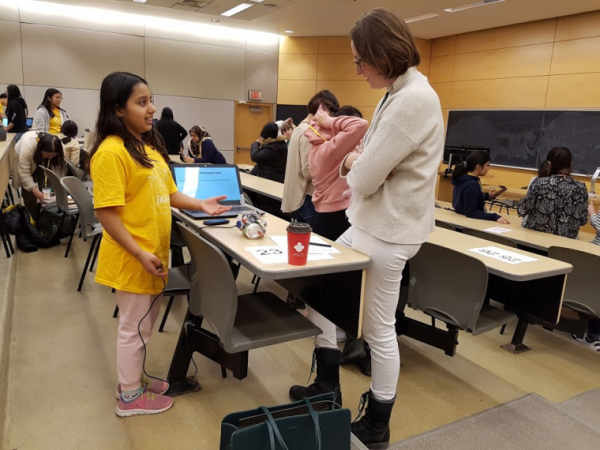 he mission to take the complexity out of science education is the heart of our work at Backyard Brains. Working with students from first grade through graduate school, Science Communication (or #SciComm) is at the forefront of our minds and work.
If it tickles your fancy, we encourage you to create a submission for the Khan Academy contest featuring an explanation related to Neuroscience (Perhaps even with hands-on demonstrations using our kits)!
If you are a student or a teacher who is seriously interested in using our resources to help create a powerful submission video, do feel free to email us at hello@backyardbrains.com and we will do what we can to coach and support you!
The TED Talk Approach
When we work with student research fellows, public presentations of their research are a part of the gig. In fact, "teaching" a subject you are attempting to master is a necessary learning tool! Attempting to explain a concept to someone else makes you realize your own knowledge-gaps (There isn't an educator alive who hasn't been stopped dead in their tracks by a seemingly simple question).
Here are 3 tips to a successful "science explanation" that will keep things fun, fascinating, and snappy:
Focus on the phenomenon
Use simple language
Emphasize the Importance and Urgency of your topic
Can you see how Dr. Gage used those three tips in action in the video above? It works!
Additional Example Resources
For some inspiration, ideas, and to learn from example, check out some of our video resources below, with a few different kinds of examples!