Are you a fan of DIY neuroscience or science in general? If yes, you're bound to enjoy the long-awaited episode of the world-famous Youtuber Vsauce's series "Mind Field" featuring some of our staple experiments!
Until recently, the show used to require a Youtube Premium subscription, but now you can enjoy all three seasons for free.
So what's all the fuss about?
If you're new to the "Mind Field" show, you're in for loads of fun and tons of knowledge. Vsauce is a celebrity educator who took it upon himself to explain complex scientific notions in a dynamic and interesting manner, with a tinge of weird and quirky scientific humor. Kind of what we are doing here at Backyard Brains! So it only makes sense that our co-founder Tim Marzullo was a perfect addition to the show. (Check out this blog post to see how much fun he had while shooting the episode.)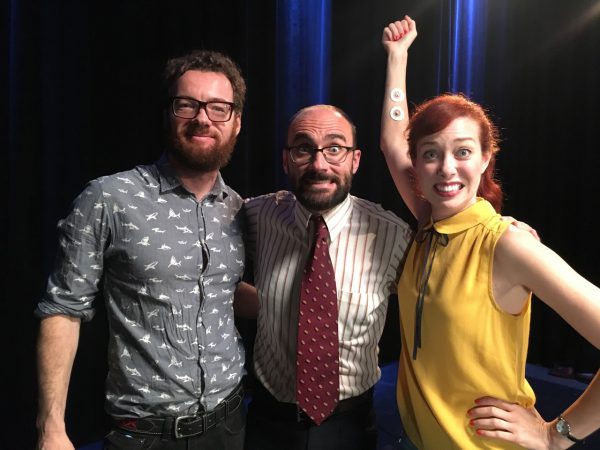 The episode titled "The Electric Brain" demonstrates another instance of superb cockroach surgery followed by a bug race! You can see our RoboRoach in action as it hijacks a cockroach's nervous system to send electrical impulses to their antennae. Tim, Michal and Alie controlled the bugs via their smartphones by, you've guessed right, swiping left and right.
It goes on to confirm that swiping got a whole new cultural meaning with the RoboRoach gizmo. (Just remember not to use that hack on Tinder!)
Apart from our own nerdy contribution, the episode is full to the brim of bizarre and even macabre details from the history of neuroscience that will make you totally fall in love with the field – that is, if you haven't already.
The video also demonstrates how humans can control other humans by turning them into a real puppet show. It makes for a perfect prank that you can perform on your friends.
Check out this and all other episodes of "Mind Field", and hit that "Share" button to spread the word!