Welcome To X-STEM All Access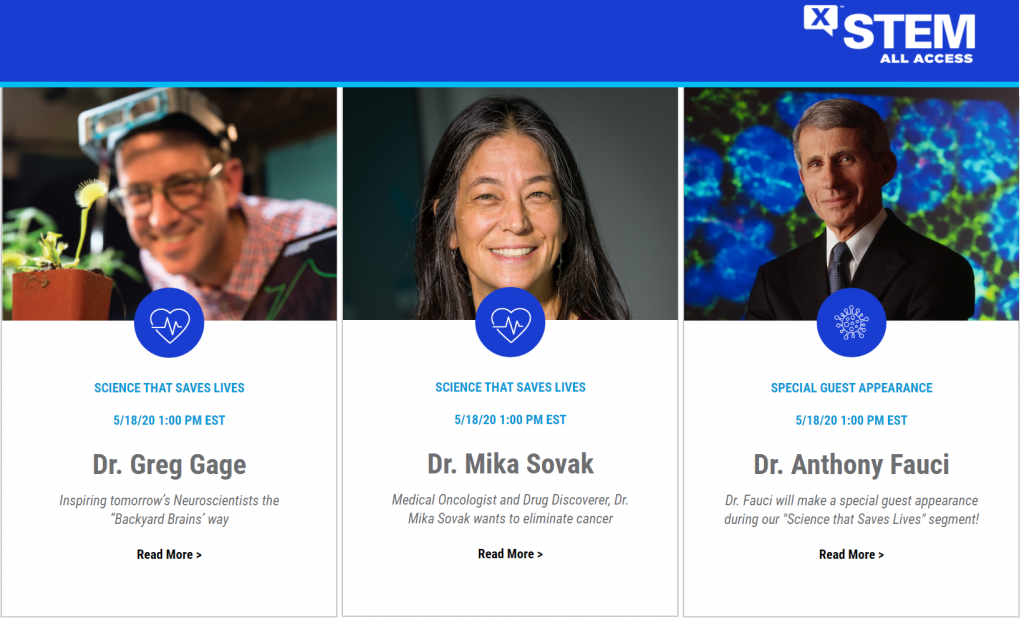 Join us on Monday, May 18th (5/18/2020) for a special live-stream featuring Backyard Brains co-founder Greg Gage, breakthrough cancer researcher Dr. Mika Sovak, and Dr. Anthony Fauci as they address the subject Science that Saves Lives. Register for the free event HERE!
These live presentations and Q&As are part of a series of talks which kicks off TOMORROW (5/12/2020) – As described by the event's website
"X-STEM All Access – presented by AstraZeneca – is an entertaining, educational, and interactive online STEM experience for 6-12th graders. Through a series of daily livestream events, students will hear from an exclusive group of visionaries who aim to inspire kids about careers in science, technology, engineering, and math.
"Our moderator, Justin Shaifer (Mr. Fascinate), will take kids on a STEM adventure that is anything but boring with a new set of engaging speakers, brain breaks and Q&A's each day."
A Great Remote Lesson Opportunity!
Teachers, this is a great opportunity for your students to engage with leaders in their respective fields of research and science! Focused on a K-12 audience, these presentations are certain to educate and inspire.
To turn this into a "grade-able" opportunity, we recommend students prepare a journal entry before and after the presentation following these guidelines:
Pre-Talk Journal Entry
Which speaker are you most interested in hearing from?
Describe their background, specialty, and contribution to science and public health
Write a question you'd like to hear them answer
Post-Talk Journal Entry
Which was the most fascinating presentation to you? Why?
What did you learn that surprised you?
Did you get an answer to your question?
What new questions do you have?
These simple prompts can kick-start a responsive lesson! If your students are interested in hearing answers from Dr. Greg-Gage, email us a compilation of their questions at hello@backyardbrains.com – and we'll compile the questions and follow up with answers!