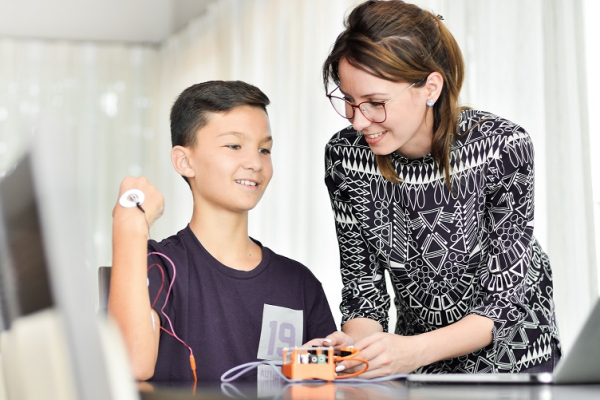 Fully remote, fully in-person, or somewhere in a sweet spot between the two. Those are the main safety concerns that are being laid right now in front of the decision makers, on behalf of students, parents, teachers and everyone around them, right at the kickoff of the new academic year. But whichever model prevails, it might turn out to be a temporary fix to a permanent problem. Furthermore, it doesn't provide an answer to the key educational concern. How to empower the remote so that it can fully substitute the in-person if need be?
This issue is especially relevant to teaching STEM. How will an educator facilitate hands-on, project based learning without projects that students can actually get their hands on? In other words, is the "learning" part of the "distance learning" equation going to be reluctantly surrendered to a lesser evil scenario?
Even as COVID-19 begins to stretch out from a single season into an era, it's becoming clear that distance learning might be here to stay. But it's not a reason to despair if you're a teacher or a parent, or both. Quite the contrary – there are ways to leverage all the good aspects of learning from the comfort of one's couch and still provide hands-on (or should we say: gloves-on?) engagement.
A groundbreaking study by researchers from Purdue and Harvard Universities (DeBoer et al., 2017) has shown it, using our very own Neuron SpikerBox kit. Online learning, the study has found, yields remarkable results when complemented with at-home lab kits.  Students who enrolled in a MOOC (Massive Open Online Course) and used our bioamplifiers got better grades than their peers who weren't equipped with the lab kits. More importantly, their self-efficacy was three times higher than that of their counterparts. Both groups followed the same syllabus; both watched videos, took quizzes and virtual simulated labs. The only difference was the chance to do-it-yourself, which yet again turned out to be a source and key to confidence. 
This study has confirmed that remote labs have potential to not only act as a playground in which to tinker and breathe life into theoretical concepts, but also to boost students' self-confidence and motivation. The labs helped these students realize that they do have a say in science, as well as the means to say it, regardless of their background, experience and expertise. Not to brag, but that's what we've been saying all along!
These humble lab kits can fit in a box, be sanitized, run on batteries, and travel in backpacks. Available at a fraction of the cost of other physiological recording devices, they still offer all the functionality of big scientific labs with $40,000 worth of equipment. Their design is simple enough not to intimidate school kids. Still, they are powerful enough to find a place even in postdoc research labs, basements, bedrooms or backyards. Science doesn't discriminate, and neither should its tools.
In fact, these lab kits are the ones that added so much weight to our trophy cabinet. The largest neuroscience society in the world, Society for Neuroscience, has recognized our "outstanding contributions to public outreach and science education", giving us their Next Generation Award a full decade ago. For our work in promoting citizen science, we got the United States "Champions of Change" award at the White House back in 2013. Together with HarvardX, we developed the largest neuroscience MOOC in the world, "Fundamentals of Neuroscience", with over 350,000 students enrolled to date. The most recent accolade is the prestigious Tibbetts Award by U.S. Small Business Administration (SBA), for "beacons of promise and models of excellence in high technology". Our work has been featured on TED, Netflix, and CNN, to name just a few.

Our electrophysiology kits have already made it to hundreds of educational institutions across the USA. Manuel Diaz-Rios, Professor of Neuroscience and Biology at Bowdoin College, plans to use them as part of his online teaching strategy. He believes that the greatest challenges of remote teaching are equity, engagement, and accessibility. "Equity comes in the form of, for example, providing equal access to educational equipment/tools and comparable internet service to all students in your class. Engagement involves creating a remote learning experience that is not exhausting, one-dimensional and thus not boring to students. And when talking about accessibility, I mean that you as their instructor must be as accessible to your students as possible taking into consideration special needs among them and different time zones," Manuel tells us. BYB tools will help him tackle at least two of these problems. They are distributed to all of his students along with internet connectivity tools, and will stimulate student engagement.
Elementary and high school students will also benefit from Remote Labs. Bernadette Barragan, a 12th-grade science teacher at George H.W. Bush New Tech Odessa (TX), believes that devising engaging activities is one of the greatest challenges for remote educators. Students are already overwhelmed with tech chores that lull them into passivity, so engagement and hands-on experience will be essential in their science classes. That's exactly where at-home lab kits jump in. "My students are spending a good portion of the day staring at a screen, and having to attend 8 different virtual meetings a day; microphone on mute, mainly watching and listening. Thankfully, they will be able to take home lab equipment that allows them to actively participate and have a valuable hands-on learning experience. As a result, students will make stronger and authentic connections with the lesson," Bernadette says.