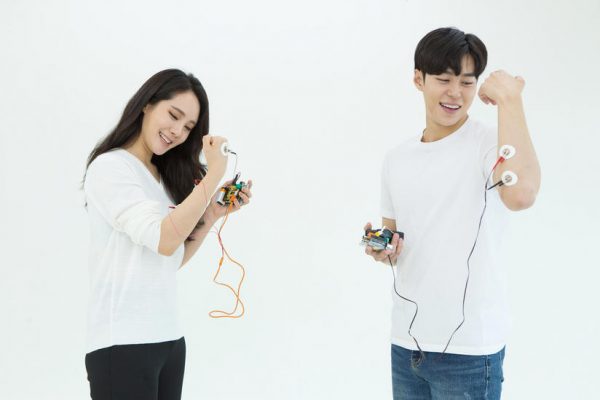 Picture this: you're sitting in your bedroom in Germany, video chatting with a friend in South Korea over coffee. You sip your coffee and they have no choice but to sip theirs!
That's exactly what our new prototype, the Wireless Human-Human Interface, is about. It transmits biosignals from one person's brain to the ulnar nerve in another person's arm. Yes, that's what our classic Human-Human Interface does too. Except that you can now do it remotely!
So far, people could connect remotely via WiFi. Now they can also connect via electrophysiology!
Which is why we're super excited to announce that the Wireless HHI has made it into the selection for this year's Amazing Maker Award contest, along with 95 other applicants! The top 12 projects will be selected as finalists and published in Make: Magazine, and the best 3 are to get cash prizes. It's a juried competition, but community votes will count as well.
Best of all, you can help us too if you like our prototype! Just head over here and hit "Vote". (You'll need to log in or register if you haven't already.) You can vote once per day per project till July 15, when the winners will be announced.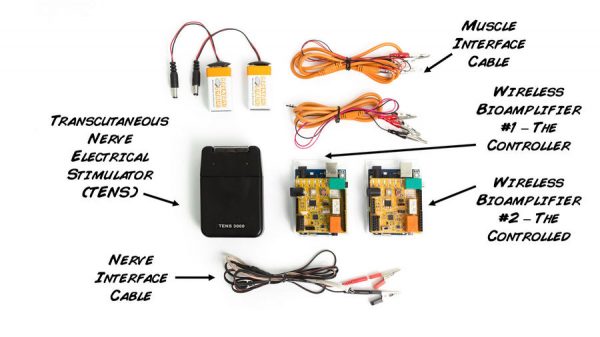 We're already racking our brains about what the next variation could be. Since this HHI works remotely, would it also work in some kind of a… hybrid mode?
Picture this: you and friend A sitting together in front of a laptop in Chicago, video chatting with a friend B who's in France. You control friend A's arm, and A controls the arm of B. But B, in turn, controls your arm, thus forming a hybrid feedback loop of arm control. The setup begs the question: whose is the will that comes first? Do any of the participants have free will at all?
Apart from the engineering aspect of the challenge, we'll have to throw in a team of philosophers too to tackle this one.
In the meantime, we're admiring many of the other cool projects that entered the contest. Check them out here, and don't forget to vote!