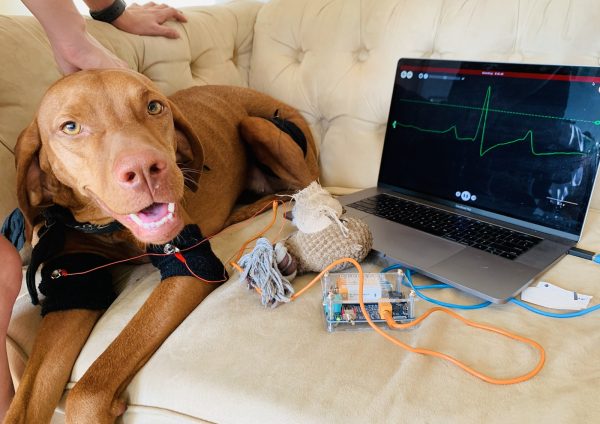 — Written by Tim Marzullo —
All vertebrate animals have hearts (and many invertebrates too), and many have EKGs that can be non-invasively recorded as commonly done in humans. We have fairly hairless bodies, so we can easily put sticker electrodes on our wrists or chests to record our EKG.
However, many of us share our households with furry four-legged creatures that bring us joy, companionship, humor, protection and pest control. Could we record their EKGs too? We know that the smaller the mammal, the faster the heart rate, but can we see this trend in our own pets, and in a way that minimally annoys our household friends? Yes we can. Ladies and gentlemen, the Dog and Cat EKG.
Dog EKG
For our dog EKG investigations, we chose a two-year-old Vizsla dog named "Santina", cared for by BYBer Florencia Edwards. This dog has very short hair and a gentle disposition, making it ideal for our pilot experiments. We modified our EEG headband by using tennis wristbands instead, inserting metal buttons into the wristbands (the buttons we find in jeans and wallets), and slipped them on her front two legs (signal electrodes), and one rear leg (ground).
(more…)