Heyhey,
My name is Etienne Serbe and I just recently finished my PhD at the MPI for Neurobiology in Germany. Two years ago I met Greg and Tim during the Summer School 'Methods in Computational Neuroscience' and it was love at first sight 🙂 We stayed in contact to figure out common future projects and that's how the BYB NeuroTour started.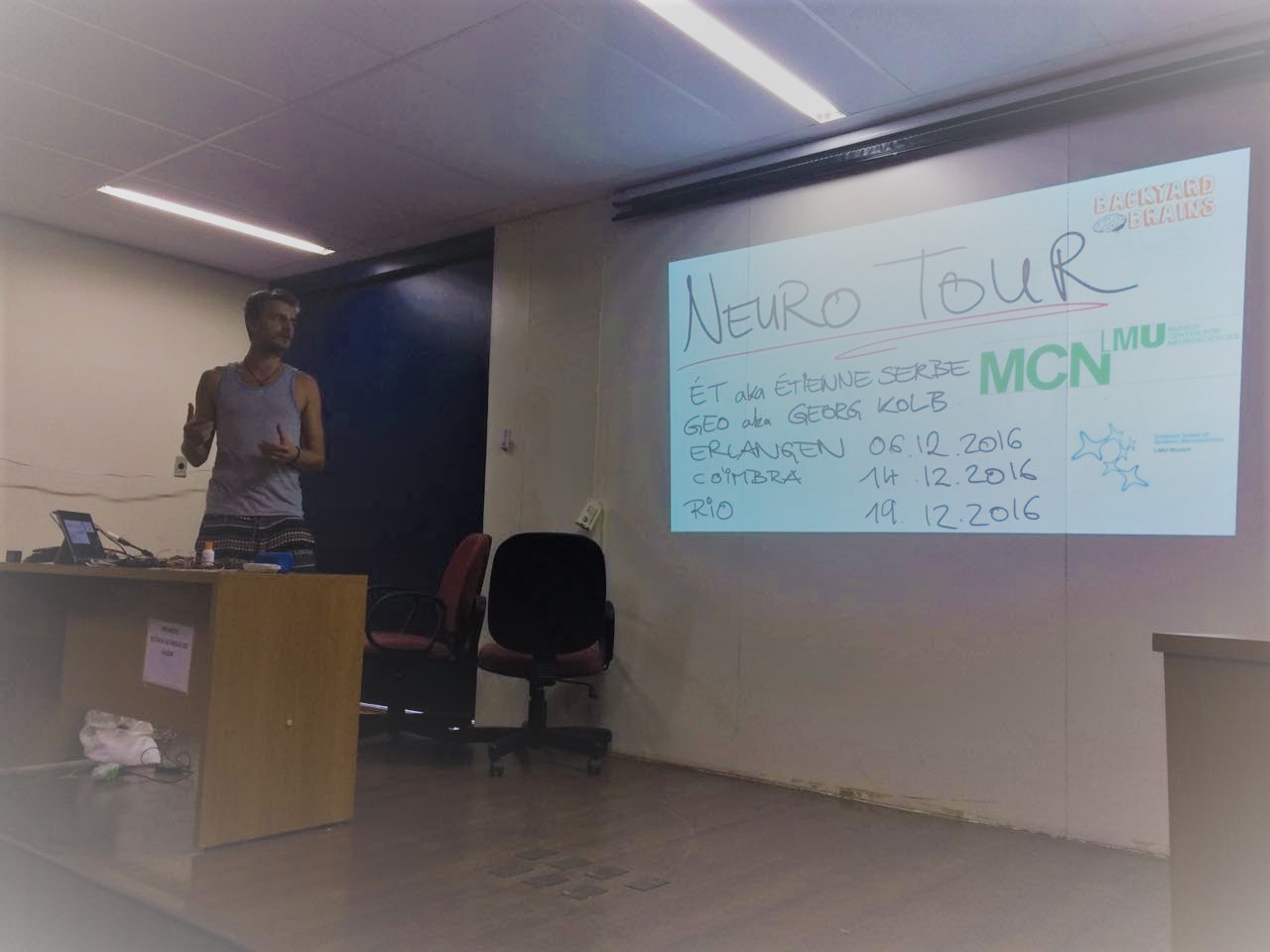 How the brain works is one of the biggest mysteries of humankind and although Neuroscience became one of the biggest research fields, I see its importance and publicity underrepresented in society as well as education. That's why I set out with my friend Georg Kolb (civil engineer) to travel and talk about Neuroscience.
The journey started Dec 6th in Germany, where I was invited by the Health Hackers Erlangen (www.healthhackers.de), an initiative that supports creative ideas and technologies in health care. Due to their medical focus I presented three 'human' Backyard Brains experiments: the electromyogram combined with human-human-interface (HHI), the electrocardiogram (ECG), and the electroencephalogram (EEG). Thanks to a really open and interactive group of 20 people it was possible to successfully perform the experiments in a laid-back atmosphere.
The next station was Coimbra, Portugal. Here, people involved in a science communication program that offers advanced neuroscience courses (http://www.educacao-e-cidadania.pt/) wanted to learn more about the BYB products and their potential use in their classes. Special thanks to Daniela Brum and Prof. Carlos Duarte, who organized this session followed by a tour through the beautiful and historical city of Coimbra.
After that we crossed the Atlantic Ocean and arrived in Rio de Janeiro, Brasil. Prof. Olavo Amaral invited us to his 7th edition of 'no-budget-science' (https://www.facebook.com/nobudgetscience/). These events host students with scientific ideas or projects that require no or little money, an ideal setting for the BYB products. We really enjoyed the session (including impressive alpha-waves in the EEG experiment) and the inspiring discussion afterwards. Due to Olavo's efforts we could also experience the 'Carioca' life style with its open minded and friendly people.
We now moved on to Sao Paolo and are heading further to the south. Unfortunately, our trip coincides with the summer vacations of most South Americans. So to anyone who is living in South-South America: don't hesitate to comment this post if you want to become part of the BYB NeuroTour.