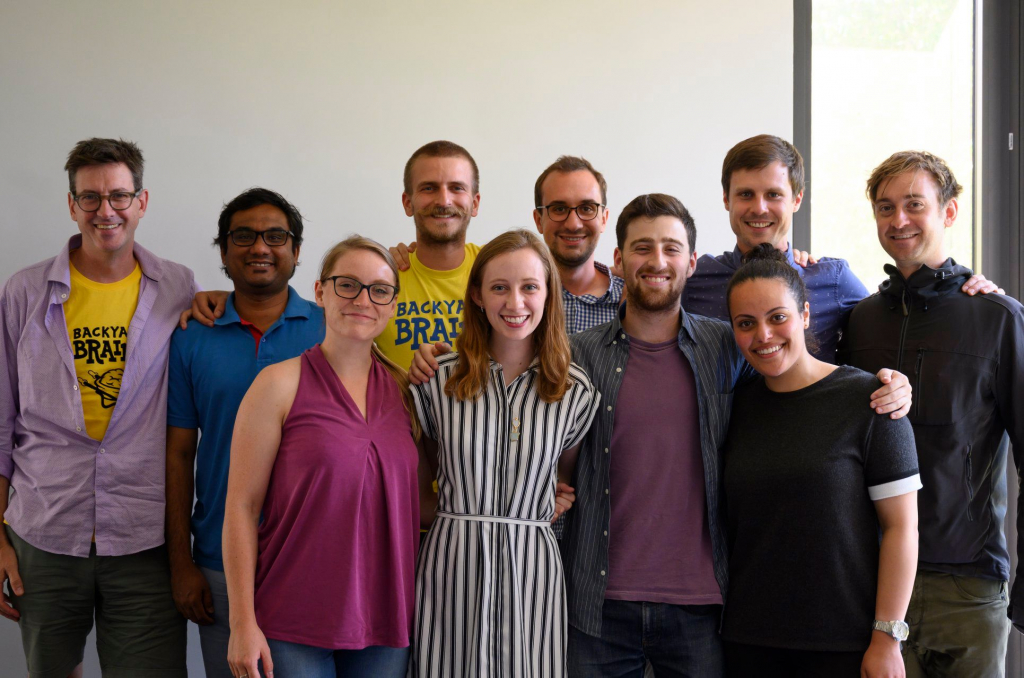 The second half of the Summer Senior Research Fellowship had the students and faculty traveling across Europe as they moved from Munich to Belgrade. In Belgrade, the new base of operations was the Center for Promotion of Science, (an incubator for scientists!) and the team was able to wrap up their projects in a tour de Force. They also had a chance to present their research at Petnica, FENS Belgrade, and Max Planck Institute of Neurobiology.
FENS Belgrade
As the fellows wrapped up work on their publications, they created posters and registered to present at FENS Belgrade, a regional meeting in Serbia comprised of a number of European Neuroscience groups. 6 students and 6 posters (one of which was double-sided!) had the conference all abuzz with their insightful and possibly controversial poster topics!
In our consistent effort to make scientific findings more accessible and concise, the fellows unanimously agreed to follow a new poster format, simply called the "Better Scientific Poster." We think the results are clean and sexy. These posters excel at prioritizing the presentation of results and supporting information quickly!
Dr. Greg Gage, our co-founder and head of the summer research program said it best, "We tried the impossible (to write 6 papers in 5 weeks) and nearly made it: so stay tuned for the publications to come!"
Below you can see the fellows and their research posters, and read a bit about each student's experience – and of course, keep an eye out on the blog for their pending publications!
---
Isidora Kraguljac – the Spikeling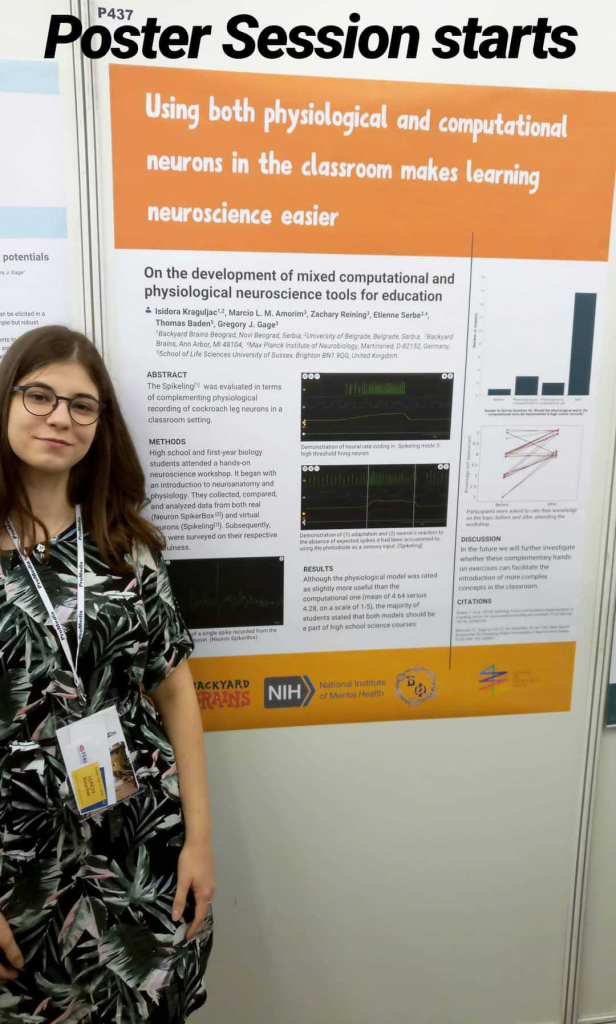 "As an undergrad student, it was my first venture into the world of "real," applicable science outside of uni and my first ever poster presentation," Isidora wrote. "It was a pleasure and a privilege being a part of such an amazing team and getting to learn and work in such a dynamic environment. Greg and ET were great mentors, and the other fellows were a pleasure to be around, bounce ideas off of and learn from!"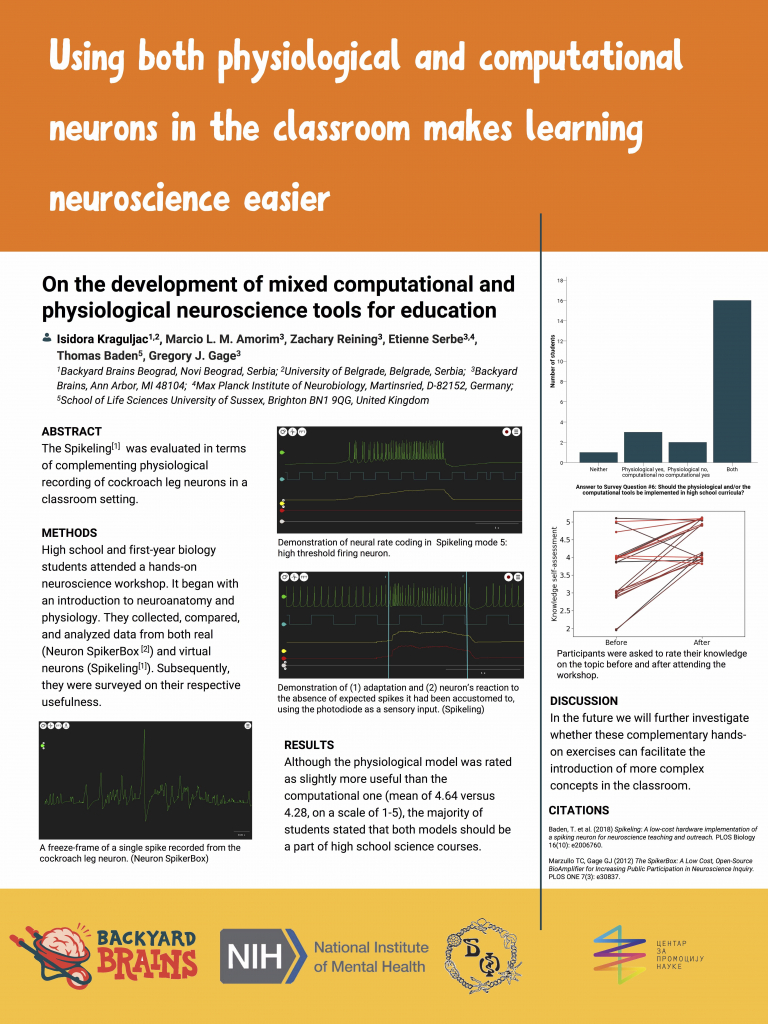 ---
Christy Warden – Babysquid learning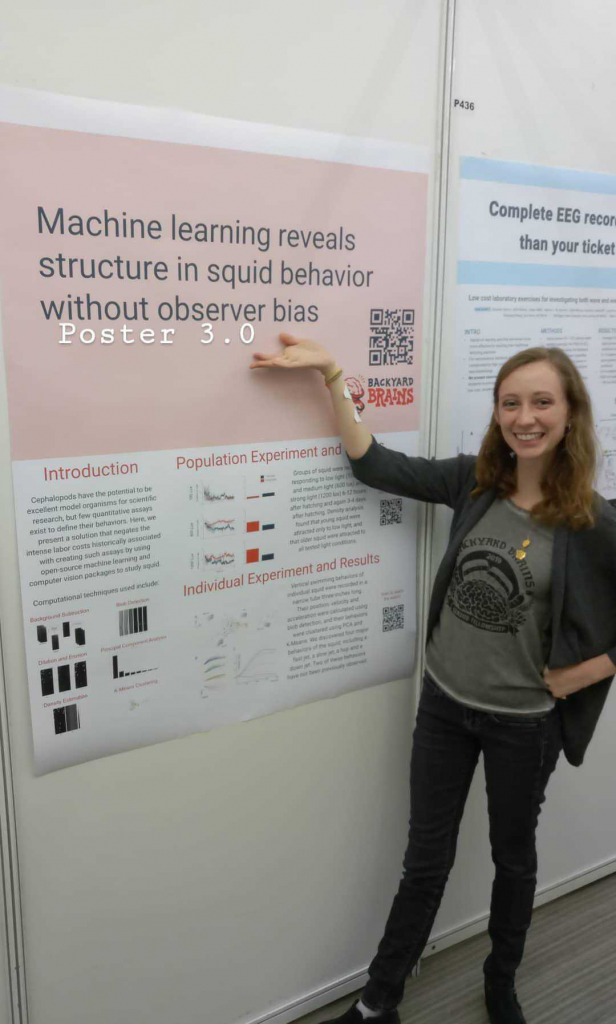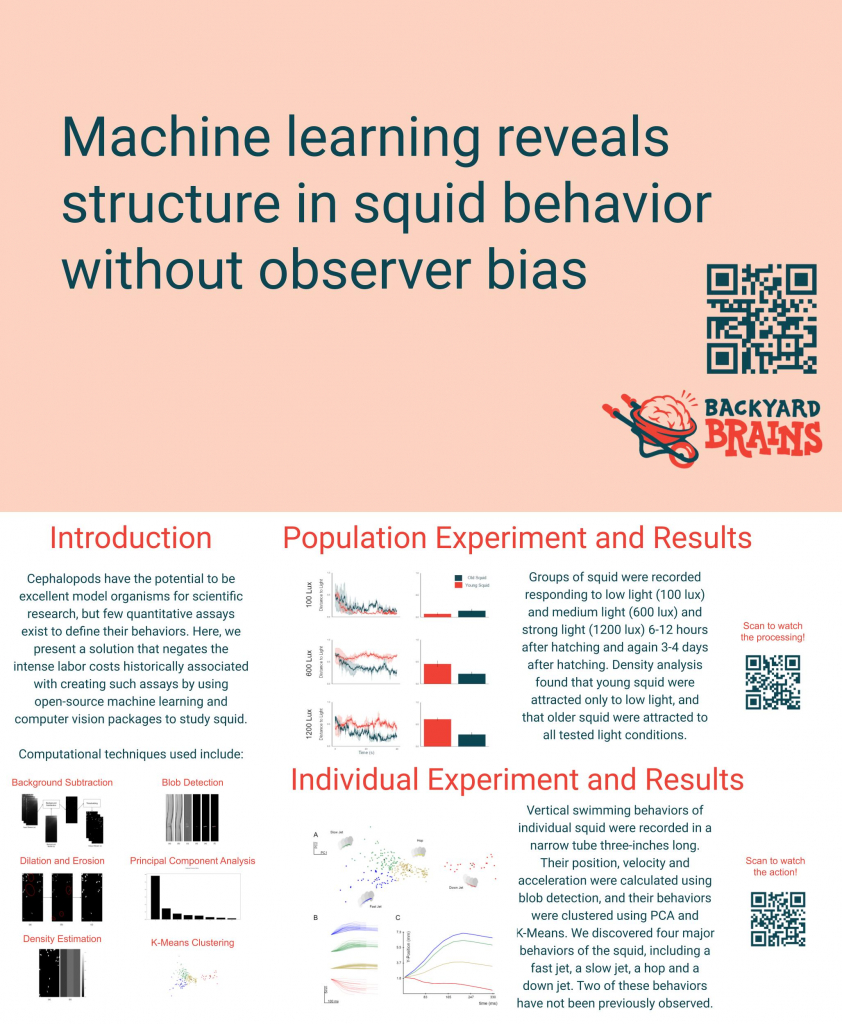 ---
Joud – Targeted Memory Reactivation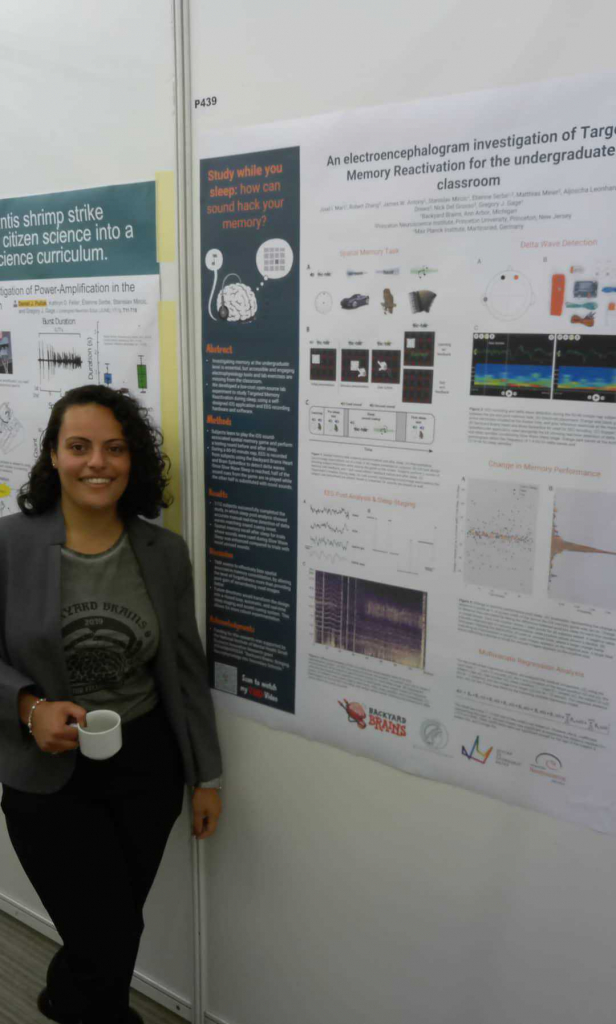 "What a fruitful and rich learning experience to have the summer right after graduation! The BYB Senior Fellowship added a twist of fun and creativity into scientific research and writing by taking it out of its stereotypical rigid mold. We communicated neuroscience to everyone and everywhere; on the train, in a science slam, at a conference, and across Europe in different languages too! It situated us perfectly at the crossroad of academia and the industry to take our work further by forging valuable networks."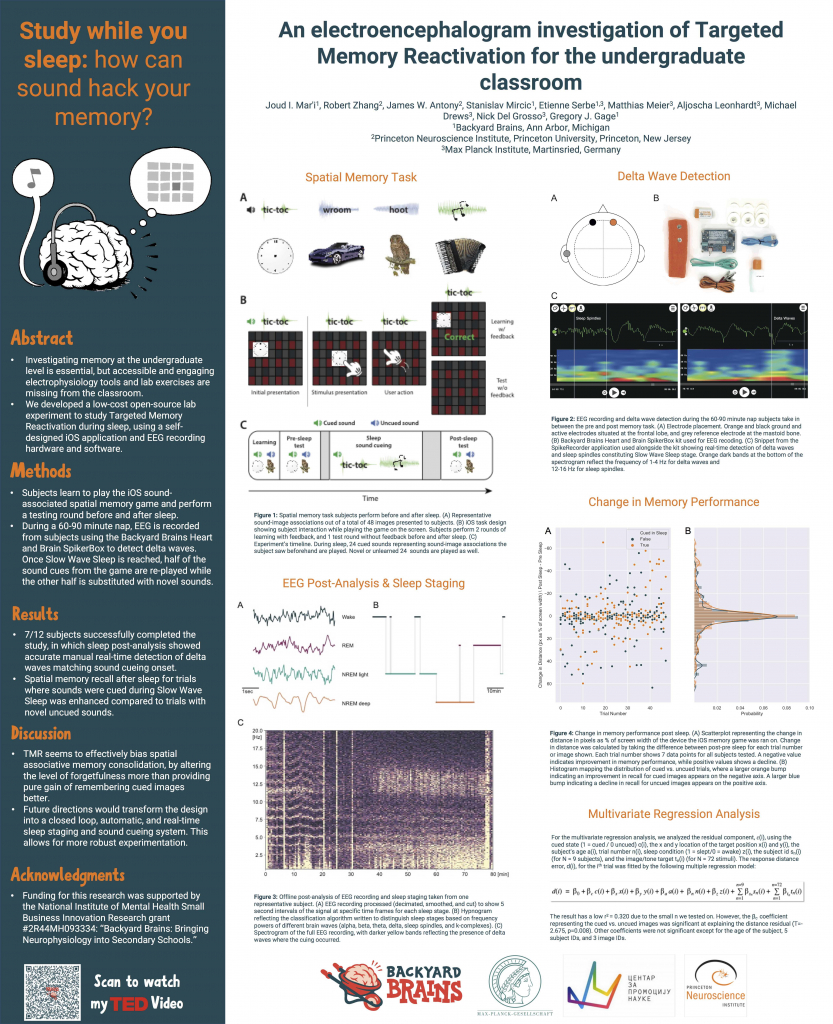 ---
Kylie Smith – The Mind Reader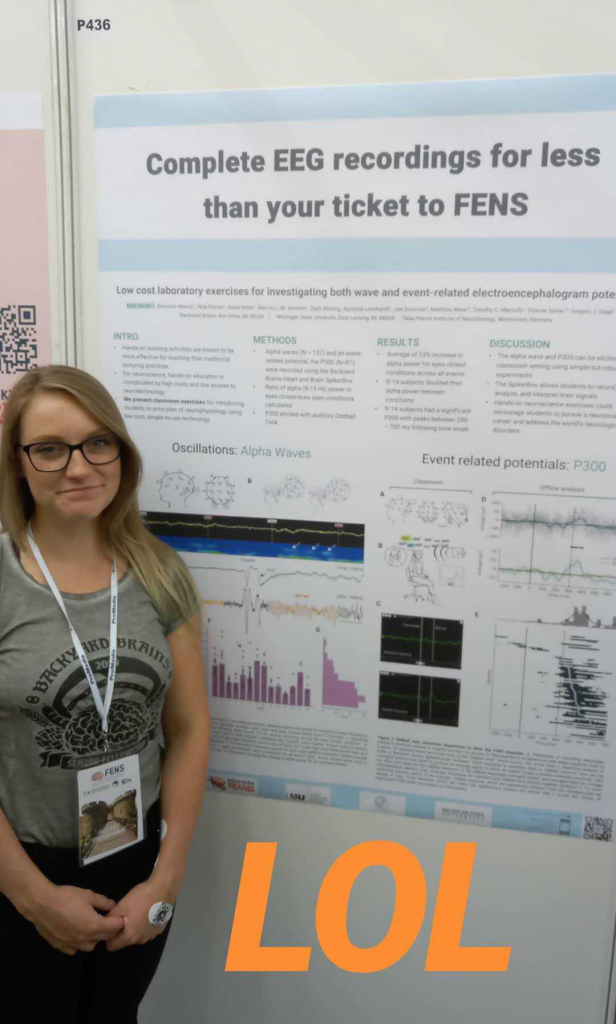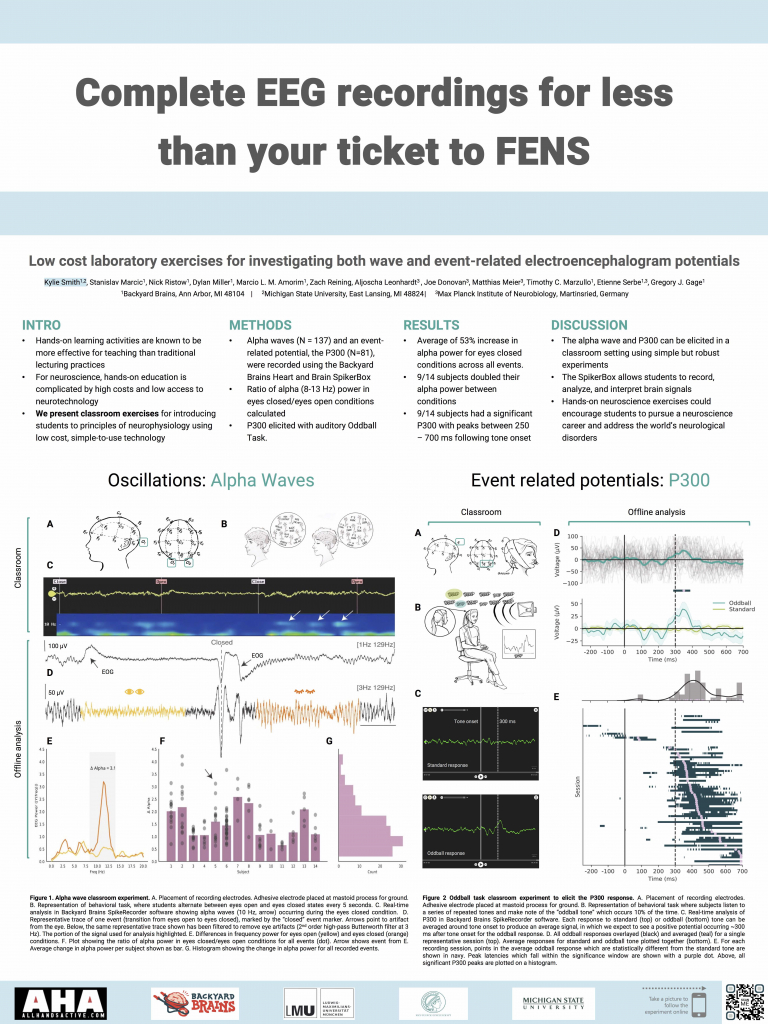 ---
Dan Pollak – Mantis Shrimp Enthusiast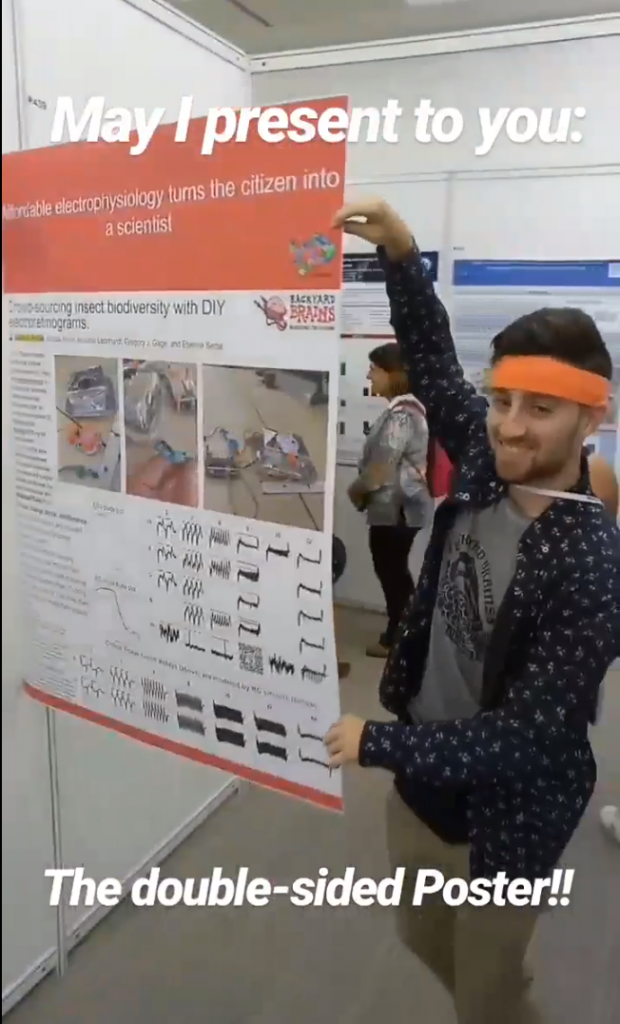 "For my first real neuroscience conference, it was exciting to experience it as a seminar attendee, a poster 2.0 presenter, and from behind the BYB booth. Many people only ever get to do one or two of the three," Dan said of the experience. "I was excited to try one of Greg's eccentric poster ideas, a hinged double-sided poster with the poster 2.0 format. It was also really rewarding to make the BYB pitch to scientists from around the world at the booth and seeing their eyes light up when affordable electrophysiology suddenly became a real possibility in their classroom. I was invigorated and exhausted at the end of each day. "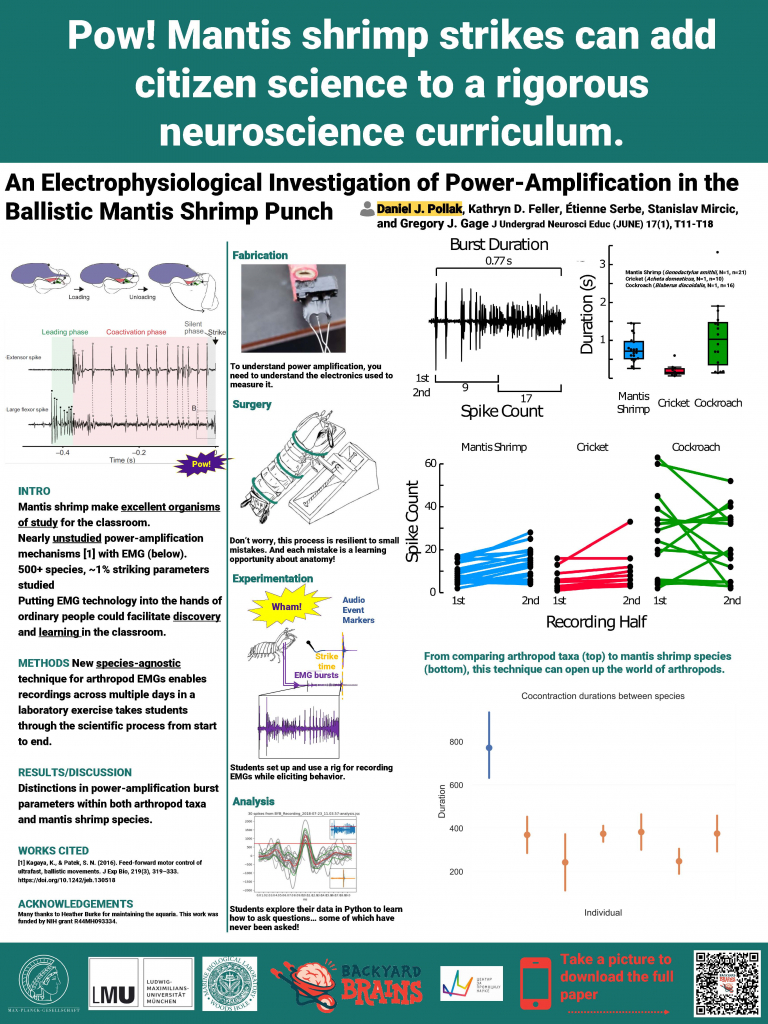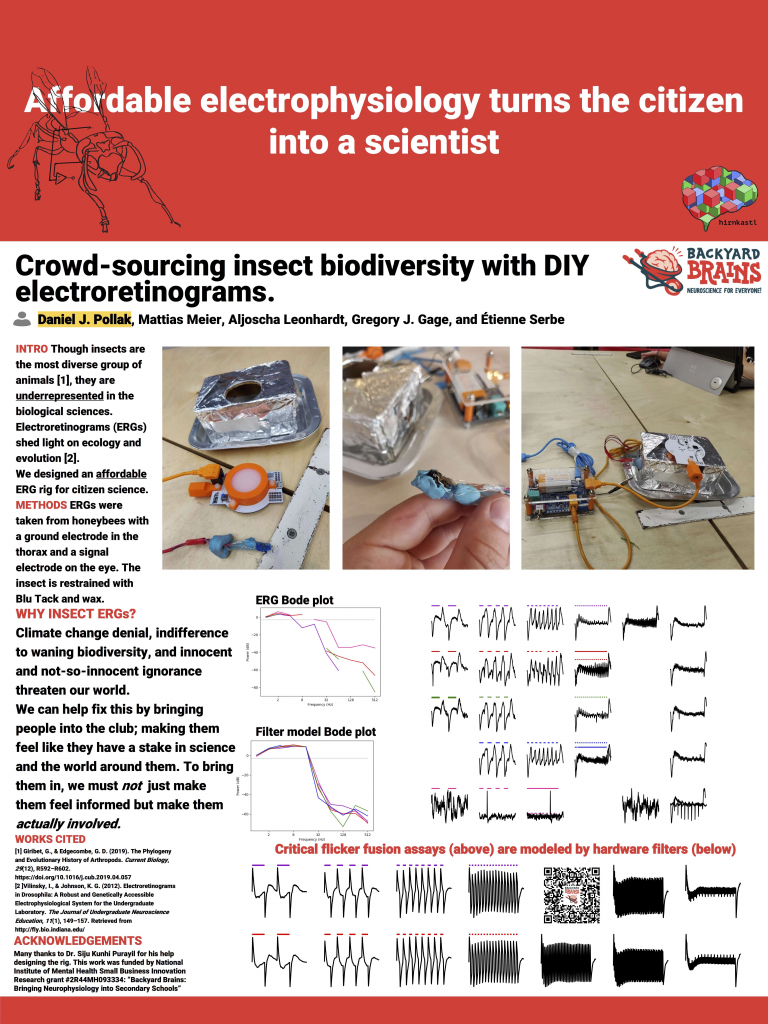 ---
Jessica Shin – She'll call you out in class AND at the conference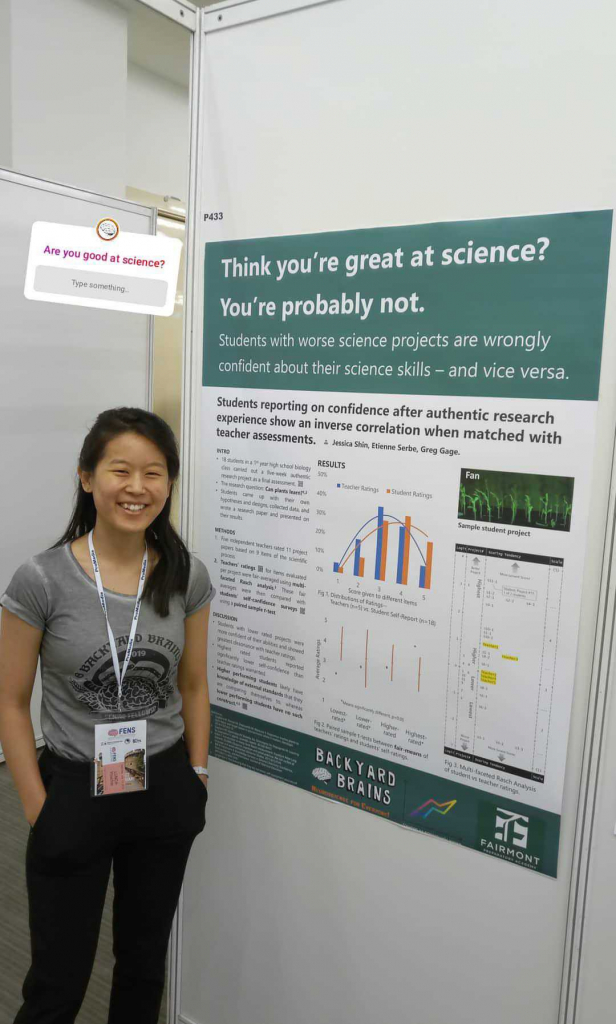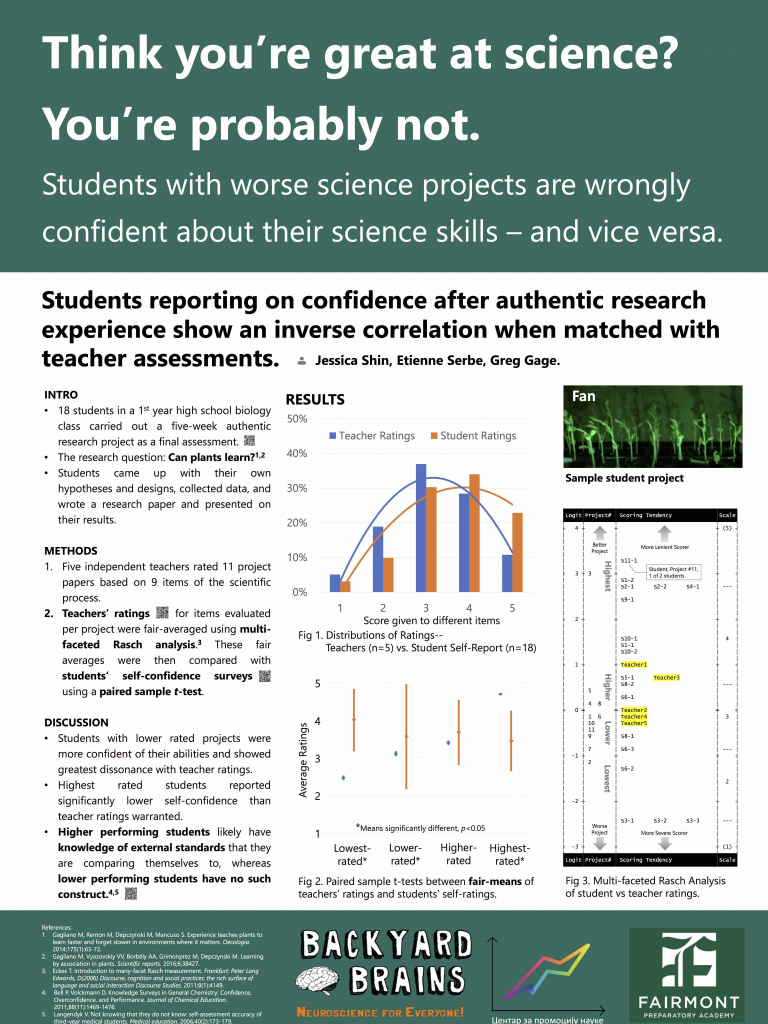 Max Planck Institute of Neurobiology
The Fellows also had the opportunity to take their science to the Max Planck Institute of Neurobiology, one of the 50 Institutes in the Max Planck Society, ranging in specialties from Astrophysics to Literature. Their presentations were engaging, showing that even DIY Neuroscience (especially DIY Neuroscience!) can deliver high-quality results that can impact the future of our field.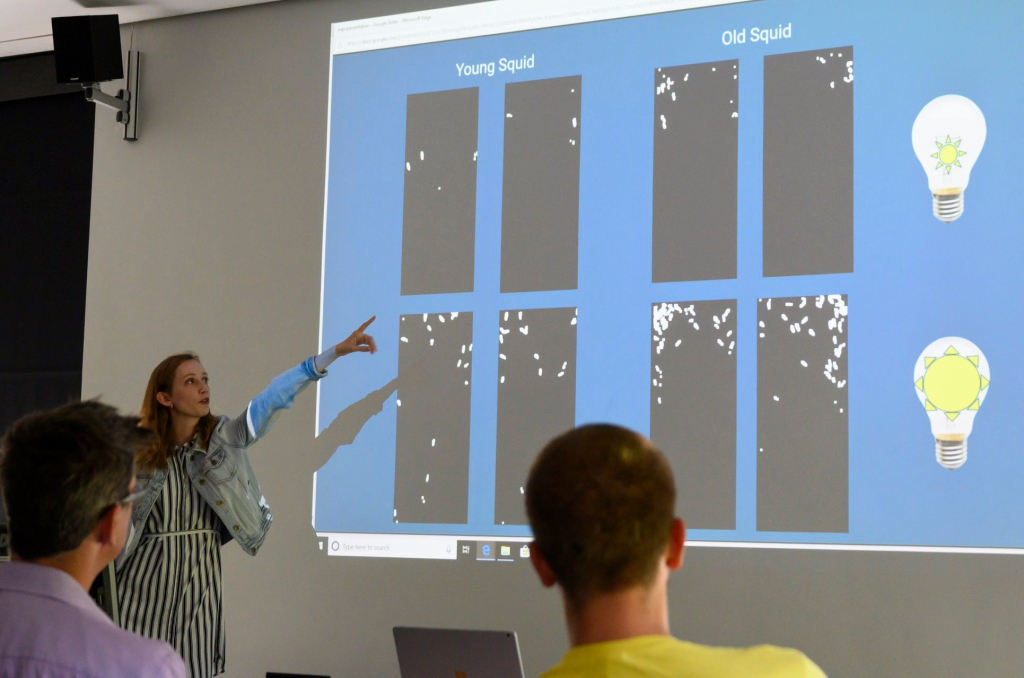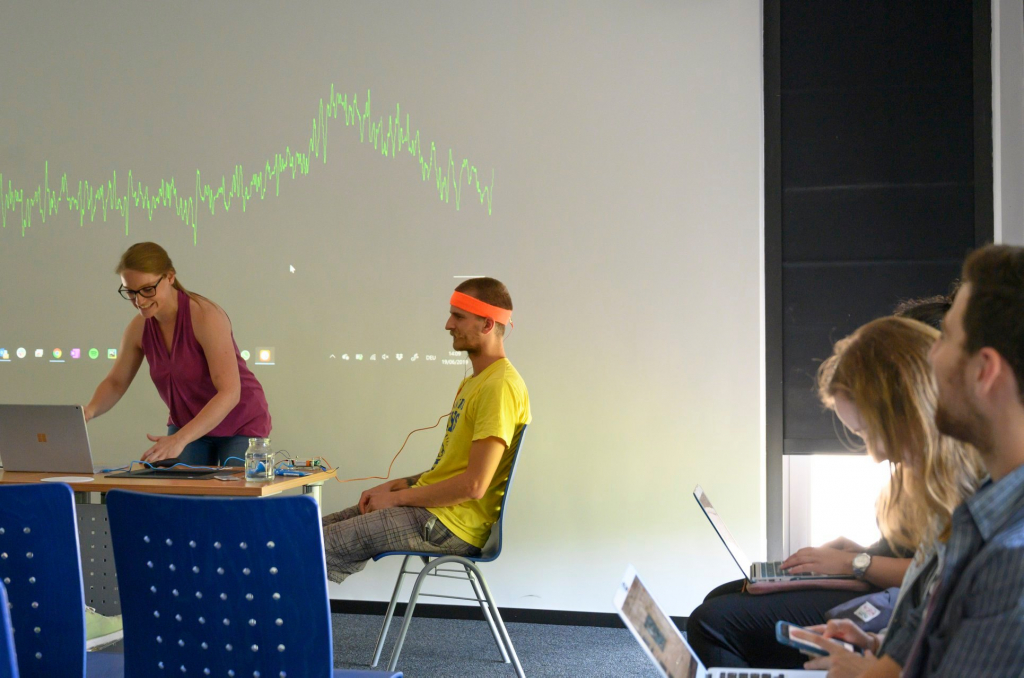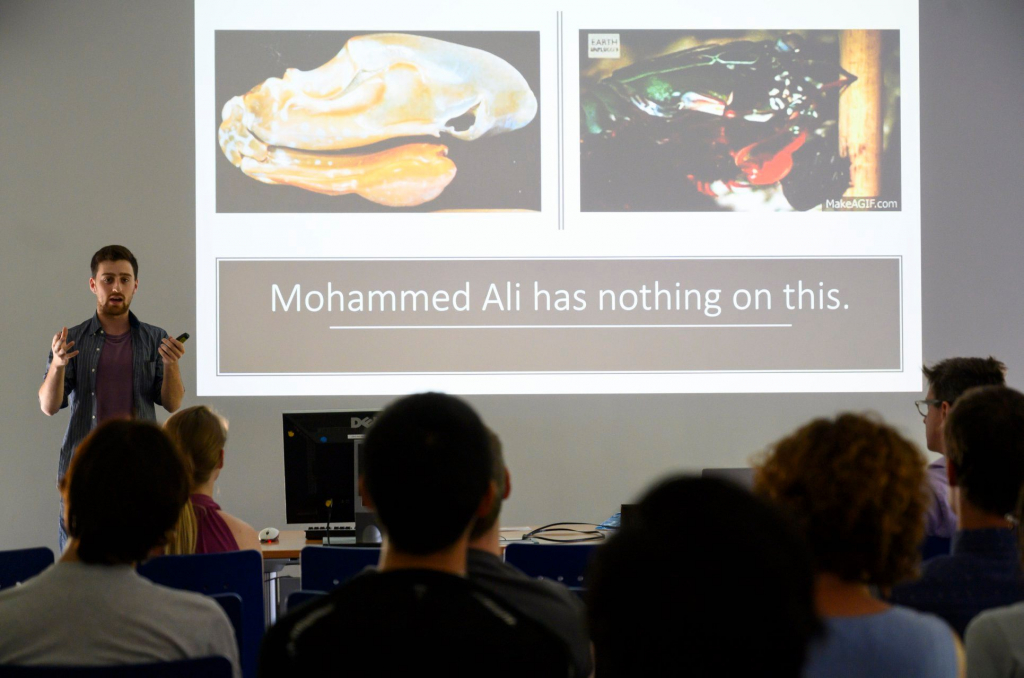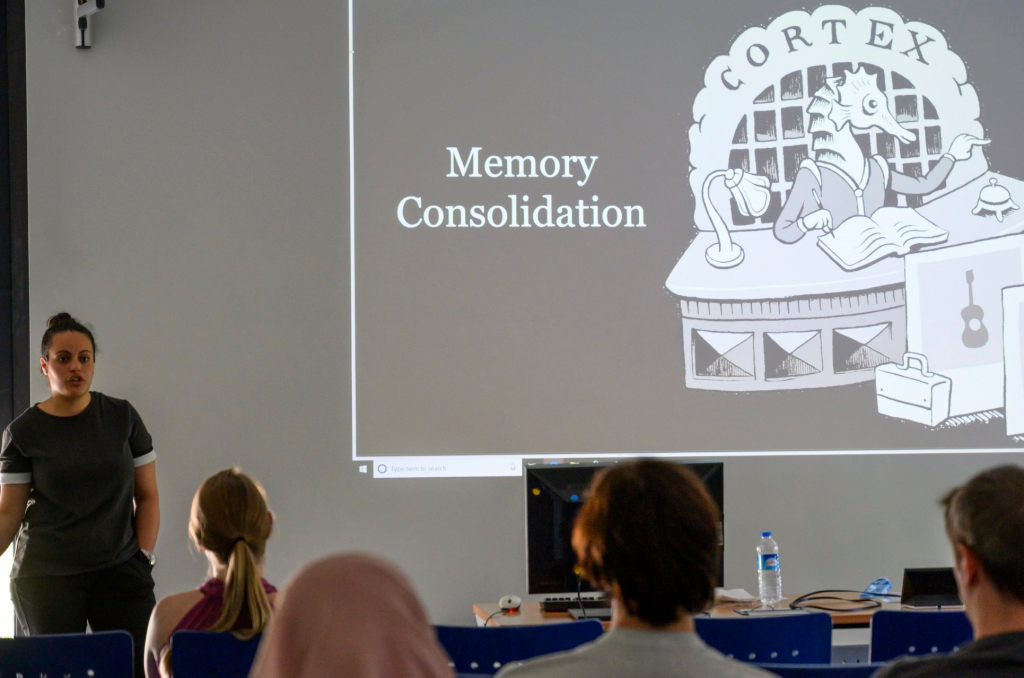 We hope this can be the start of a collaboration with the Max Planck, hopefully borrowing tutors (like our friend Etienne) from different Max Planck institutes for our future Fellowships!
'Til Next Year …
This summer Fellowship was unlike any we've ever done before! Dan said of the experience: "Going overseas for starting an exciting new project, exploring different modalities of sci-comm and outreach, and visiting places and eating food I'd not even heard of before starting the fellowship were all firmly outside the realm of likely post-bac outcomes for me. Now I get to continue pursuing my newfound love for creepy crawlies, and I'm inspired to seek out more opportunities for science and sci-comm like this."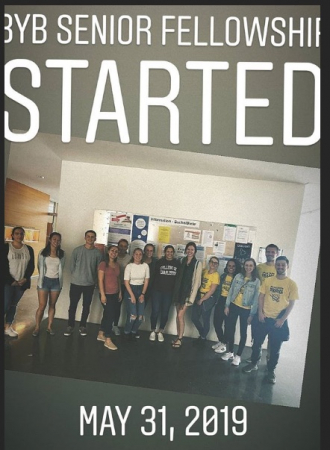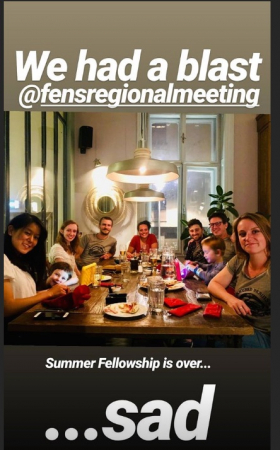 Though our Summer Fellowship is over, the Highlights still live on in our hearts! (And on our Instagram.) Check out some Conference Highlights here! And don't forget to tune in next year!