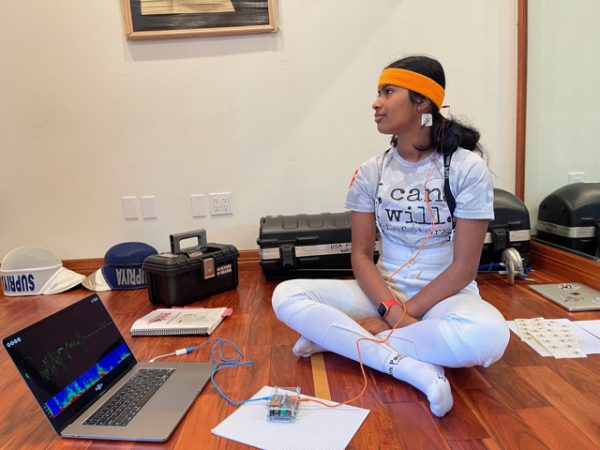 Swift and agile musclework and bladework is all you need to be a good fencer. Or is it?
As it turns out thanks to Supriya Nair, an eighth-grader from Redmond, WA, the brain and heart have their fair share in it too! The young scientist's research project on neurofencing just won her yet another first place at Washington State Science Fair (WSSEF), as well as a special award in Health & Medicine and a Broadcom MASTERS nomination!
To record and collect data needed for investiging the role of brain, heart and muscles, Supriya used a BYB combo, Heart & Brain SpikerBox and Muscle SpikerBox.
Supriya isn't new to being a state science fair laureate. Last year, this young fencer won the WSSEF award for measuring her muscles' reaction time before and after warm-ups to improve her lunge performance.
This time around, she added the brain and heart into the equation, measuring her EEG, EKG and EMG with and without a 15-minute warm-up.
So what were the results?
Hypotheses & Findings
This enthusiastic high-schooler came up with not one but three well defined hypotheses to test on herself as a willing subject:
A 15-minute warm-up leads the brain from a relaxed state (where alpha waves are dominant) into alertness (beta waves) and then awareness state (dominated by gamma waves).
The warm-up also has an impact on the heart, bumping up the BPM (beats-per-minute) by at least 50%.
Muscles also benefit from workout, which reduces their reaction time by at least 15%.
As it turned out, all three hypotheses were confirmed. The heart's BPM, data showed, went up by more than 60%, from ~80 to ~130. Her muscles were even more diligent than last year; their reaction time was improved by a whopping 19.7%, as compared to last year's 15%!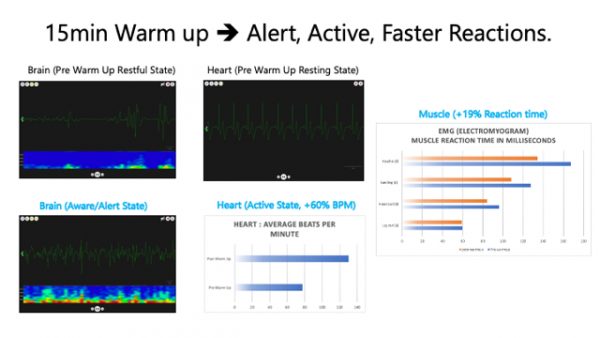 The first thing we wanted to know was how she arrived at the idea to add brain and heart into the equation.
"All muscles receive a signal from the brain, which is well involved in any muscular activity," the young neurofencer told us. "So I sought to figure out the role that the brain plays in reaction time. As for the heart, it supplies our muscles with oxygen. So during exercise, the muscles need more oxygen, and I wanted to see how it all happens."
But science fairs and research projects are not the only thing Surpiya's into. A neurofencer that she is, she is going to present her research at this summer's USA Fencing Nationals in Minneapolis. "I want to introduce neuroscience to my fellow fencers and use it to highlight the importance of warm-ups. Even though it's a known concept, I want to spread the word that it does make a difference, and science shows it too," Supriya contends.
This teenager's scientific journey is well thought out too. She has even designed a roadmap with her plans starting last year all the way up to 2026! (It made us at Backyard Brains think "Why the heck have we never made such roadmaps!") It's a two-level project that includes developing neurofencing and fleshing it out to discover how it fares against variables such as age or gender. On the other hand, she's planning for outreach activities to help promote and strengthen the relationship between sports science and neuroscience.
In addition to sports and neuroscience, Supriya is also a passionate singer of Indian classical music, which she has used towards fundraising over $13,000 to help tackle the clean water crisis in developing countries around the world.
Hats off to this young girl for doing such a great job across many areas, and fingers crossed on US Nationals! We'll be back with more neurofencing news in the years to come.