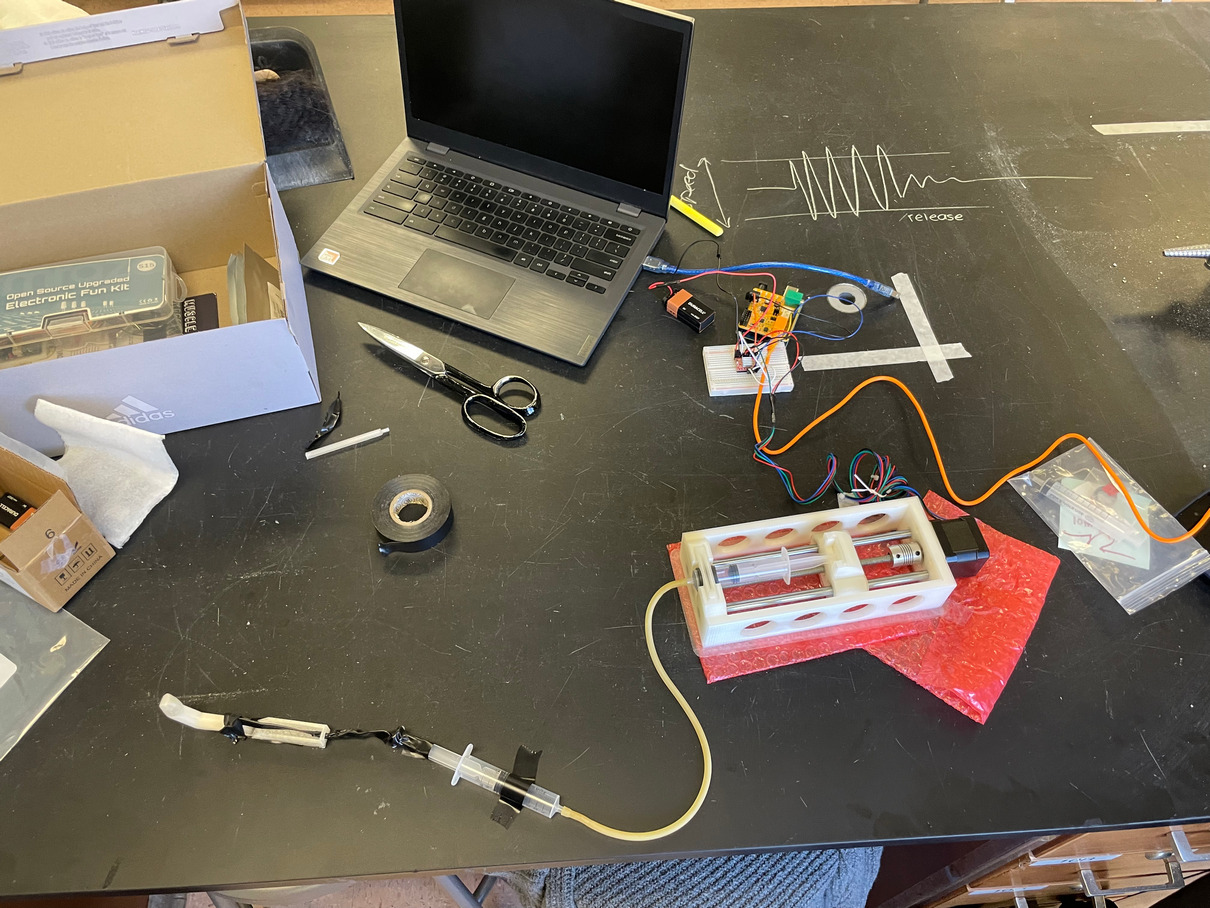 A pump made of two plastic syringes and a pushing block powered by a stepper motor, one of our Muscle SpikerShields and a 3D-printed base — that's all that Kiley Branan, a high school senior from Indiana, needed to put together a prototype of a finger that you can open and close by flexing your arm.
If it sounds like a prosthetic device, it's because that was what Kiley had originally intended it to be. But as she was figuring out the mechanics, the project evolved into a physical therapy tool that can't replace a limb but can help people who were born without one or have had an amputation to learn kinesthetic and fine motor skills. It is customizable, easy to learn, and best of all — it's very cheap. With high-tech bionic limbs often being prohibitively expensive, people should at least get a chance to adjust to them at a next-to-nothing cost.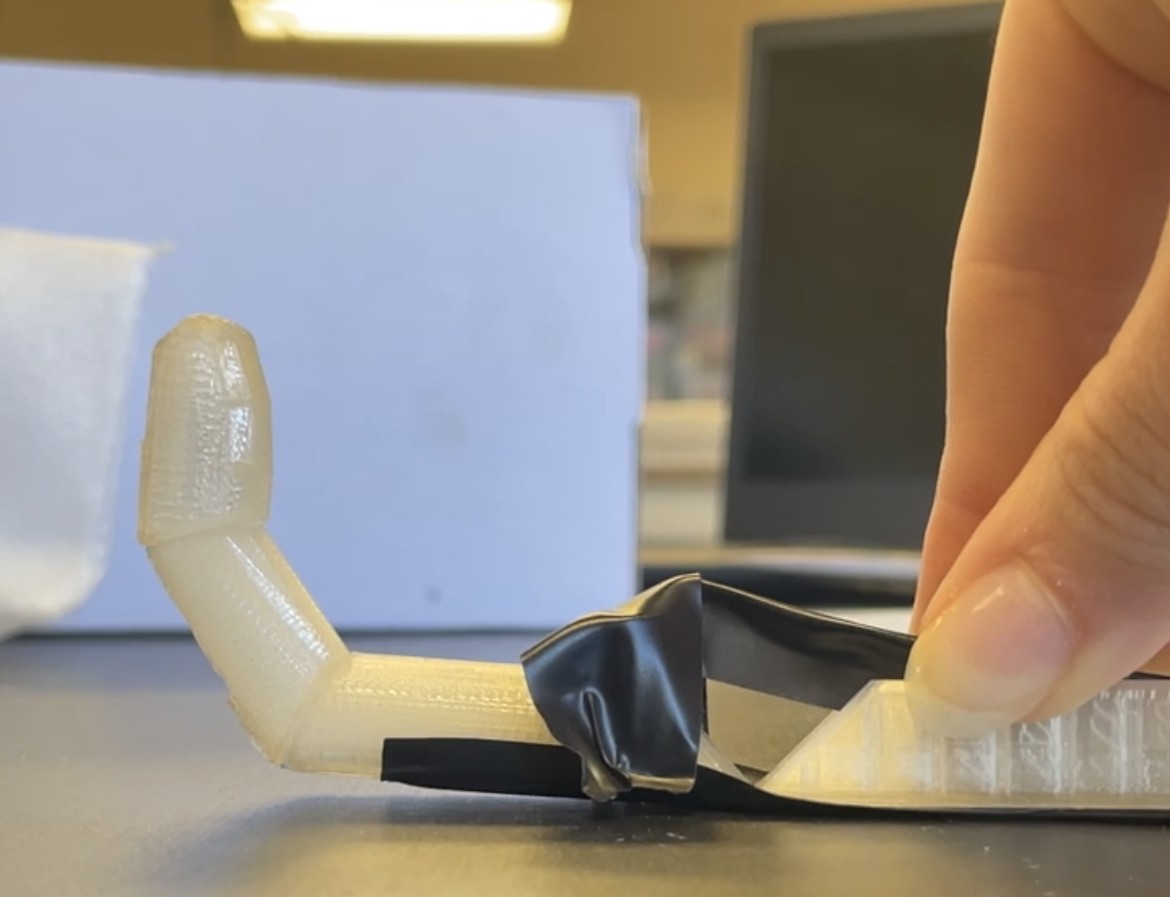 So how exactly does it work? When you're about to "tell" your muscles to move your limb, your brain sends electrical signals called action potentials to the spinal cord, which then passes on the message to your muscles via motor neurons. But what happens if a person is missing the limb? The message is still being transmitted. What's missing, apart from the recipient limb, is something to "intercept" the message, gauge and interpret it.
That's where Kiley's device comes in. "It detects the nerve signals in the arm when they tell the muscle to move, and then tells the coded computer to push the syringes forward or backward so that they can move the finger. So the device helps detect something that already exists in a person who doesn't have a finger," the 18-year-old tells us over Zoom. The device would be helpful on two levels. On the one hand, it would allow for better fine-tuning and customization of the prosthetic limb before it gets made. On the other, it would prepare the person and improve their fine motor skills before they receive their first prosthetic. In a nutshell, Kiley says, it would "make the transition from living without a limb to using a prosthetic as seamless as possible."
The project, which has been in the works for almost a year, wasn't without roadblocks. It started as a science club project at the Indiana Area High School. There, Kiley got a mentor in Dr. Paul M. Nealen, biology professor at Indiana University of Pennsylvania, who introduced her to recording EMG signals using our SpikerShield and the Claw. She then got in touch with one of our engineers who helped her integrate the stepper motor with the SpikerShield. "It was definitely the 'how' that was the biggest issue. I'd never coded or worked with EMG signals before! I had all the separate pieces but I couldn't figure out how they'd work with one another," she recalls. Things took off when it came to engineering.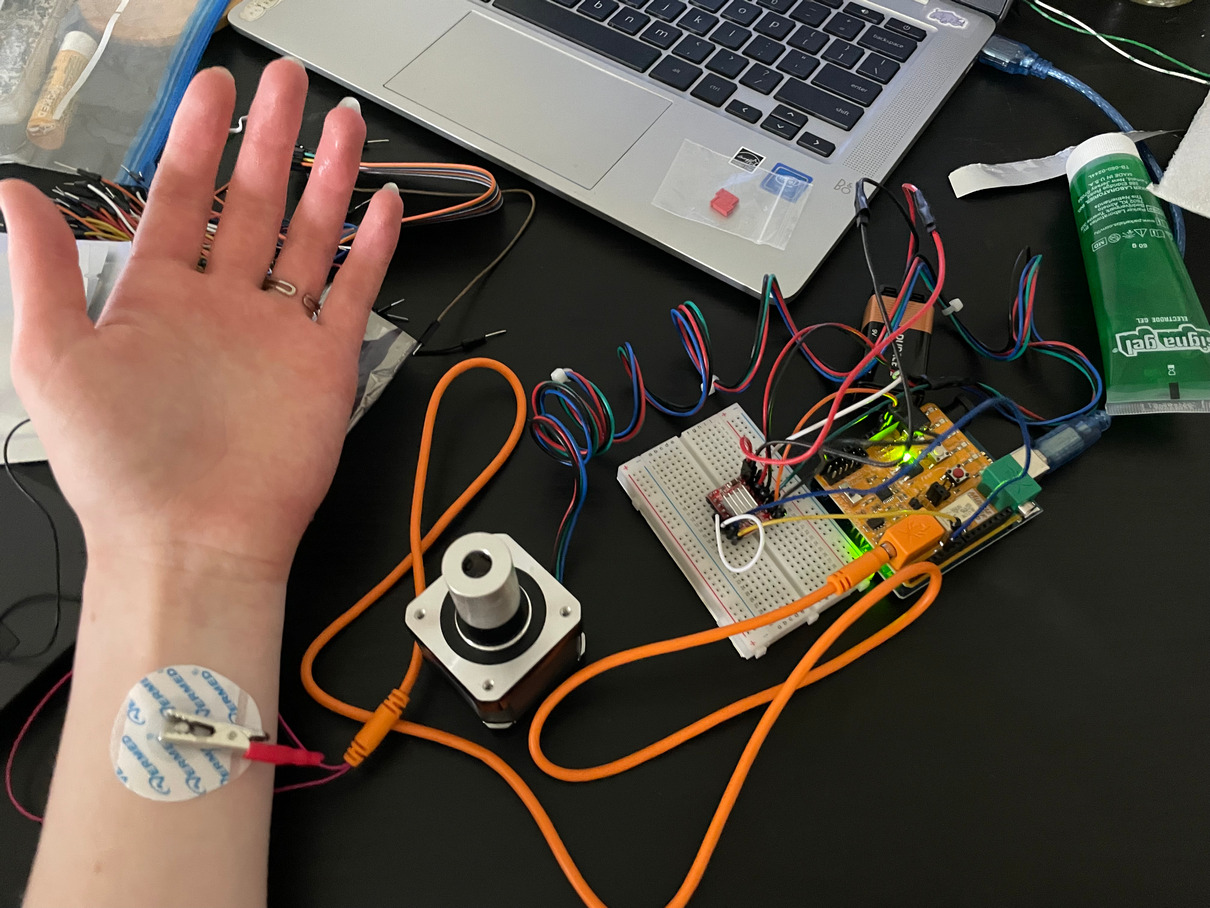 Now that she's done the heavylifting, it's time to collect both quantitative and quantitative data to see whether the tool is retaining enough power so the finger doesn't take too long to move. So far, Kiley has tested it on herself and some of her family members, which yielded quite a few interesting insights and ideas. When her dad tried it with his right hand, the young creator was in for a surprise: the finger wouldn't move when prompted to! Since there were no issues with the sensors, they repeated the procedure with his left hand and boom, it worked alright.
The reason? "My dad had a stroke when he was young and his whole right side was shut down. And this device managed to pick up on the fact that those nerves were much weaker. So I realized it could potentially help doctors understand how to look at those signals when they're not coming so close to the surface, and how to make them stronger." Next in line as a test subject is Kiley's cousin, who inspired her to make this an aid instead of a prosthetic.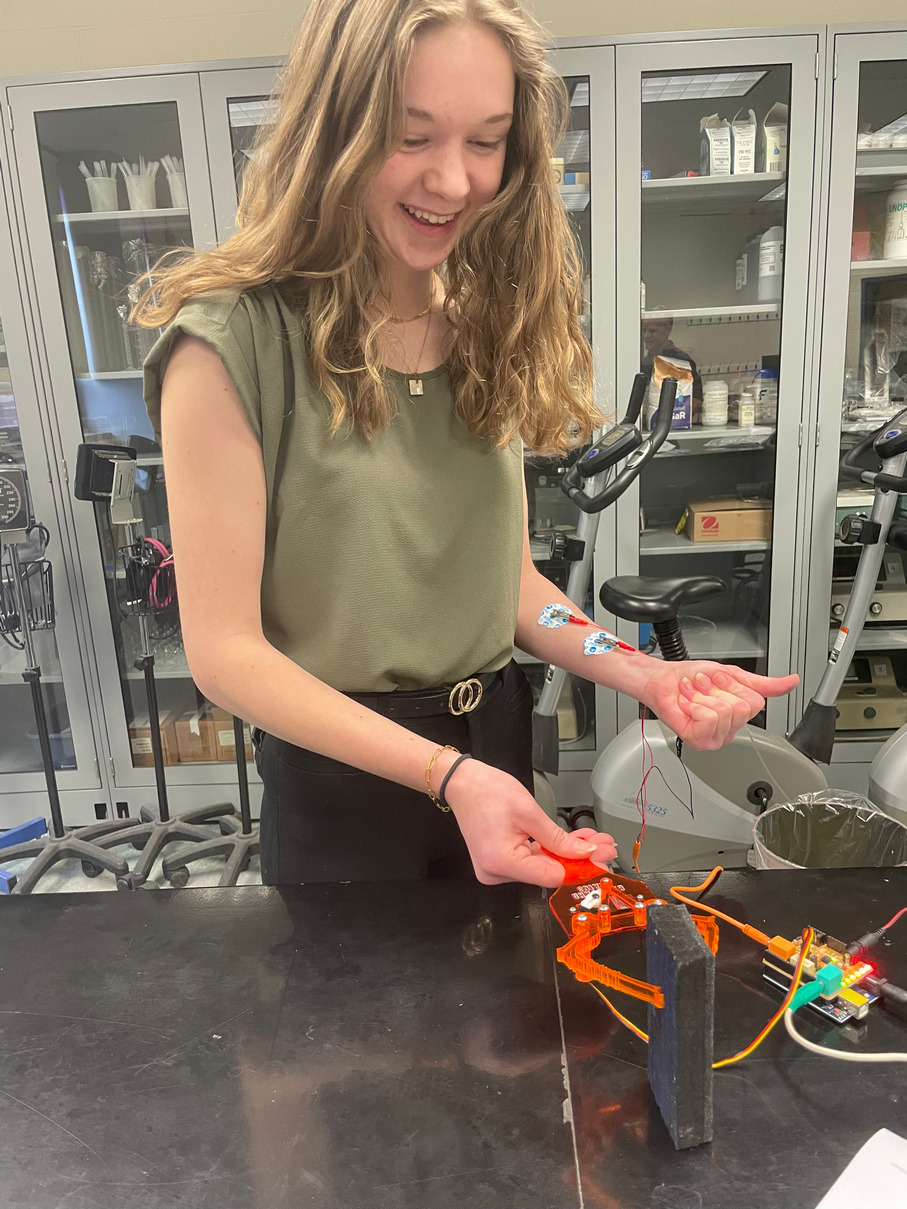 Although still at its pilot stage, the young engineer's work has already made waves, winning her several accolades. She won the 1st place and the director's award in engineering at the Pennsylvania Junior Academy of Science science fair at Slippery Rock University. Then came the sponsor's engineering award at Pittsburgh Region Science and Engineering Fair (PRESEF), followed by 1st place at the Indiana University of Pennsylvania (IUP) Scholars Forum. Just these days, she took home the first prize and a perfect score from the state-level competition of the Pennsylvania Junior Academy of Science at Penn State University. After the summer break, she'll head to college where she plans to major in biomedical engineering.
In her free time, Kiley likes to hang out with her two dogs, Rex and Willow. Apart from cooking, baking, traveling and tinkering bold ideas into becoming, she also likes to read historical fiction by Anthony Doerr.