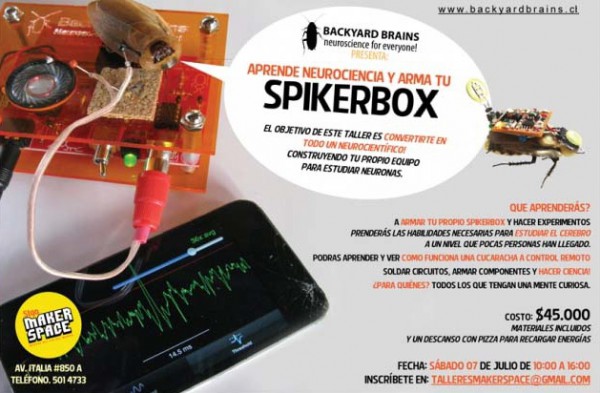 Aprende neurociencia con El SpikerBox. Arma el Tuyo y Llévatelo. ¿Te intriga saber cómo funciona tu cerebro?, ¿Te has preguntado alguna vez cómo suenan y cómo se ven realmente las señales neuronales?, ¿Te gusta hacer experimentos? Bueno, ¡este es tu día de suerte!
El objetivo de este taller es convertirte en todo un neurocientífico! Aprenderás las habilidades necesarias para estudiar el cerebro a un nivel que pocas personas han llegado. Vas a construir tu propio equipo para estudiar neuronas. ¿No sabes de electrónica, ni cómo soldar? No te preocupes, nosotros te enseñamos. No se necesita experiencia previa.
Primero, haremos demostraciones con insectos para que puedas entender cómo funciona su cerebro. Luego, te guiaremos por los pasos para construir tu propio SpikerBox (amplificador). Cada uno recibirá las piezas necesariaspara hacerlo, además de instrucciones paso a paso para soldar cada componente en su lugar.
Y luego, ¡es hora de hacer ciencia! Vamos a guiarte por un montón de divertidos experimentos que puedes hacer con tu SpikerBox. Vamos a aprender sobre las "Spikes", la "Tasa de Codificación", el efecto de la temperatura sobre las neuronas, la velocidad de transmisión de las neuronas, y cómo la electricidad puede hacer que los músculos se muevan.
Además podrás ver demostraciones de nuestro RoboRoach (nuestra Cucaracha a control remoto) y ver un avance de algunos equipos y experimentos aún no lanzados.
Profesores: Tim Marzullo & Greg Gage;  www.backyardbrains.cl
Fecha: sábado 7 de julio
Horario: 10:00 – 16:30 hrs. Incluye un descanso con pizza incluida para recargar energías
Lugar: Santiago MakerSpace at Av Italia 850A (cerca de Salvador y Bilbao)
Valor: $45.000 (Materiales incluidos)
+info e inscripción: info@backyardbrains.com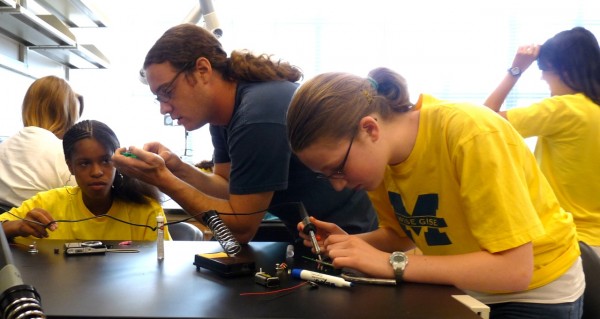 (In English)
Teachers: Tim Marzullo & Greg Gage;
Date: Saturday, July 7th
Hours: 10:00 – 16:30 hrs. Includes lunch pizza break to recharge
The place: Santiago MakerSpace at Av Italia 850A (near the intersection of Salvador and Francisco Bilbao)
Cost: $45,000 pesos (that's approximately $90 U.S.). All materials and tools included.
The Santiago Make and Take Workshop
Curious how your brain works? Have you ever wondered what the "spikes" of neurons really look and sound like? Do you like doing experiments? Well you are in luck! Backyard Brains is conducting a workshop at the new Santiago HackerSpace just for you
The goal of this workshop is to make you a neuroscience expert! You will learn the skills to study the brain at a level that few people have ever done! You will build your own equipment to study neurons. Not sure how to solder or make electronics? No worries, we will teach you. No experience necessary.
First, we will provide demonstrations with insects so you understand how their brains work from the outside. Then we will guide you through how to build your own SpikerBoxes (amplifiers). Everyone will receive the parts required to build, plus step-by-step instructions on how to solder each component in place.
Then, it's time for science! We'll go through a whole bunch of fun experiments you can do with your new SpikerBox. We will learn about "Spikes","Rate Coding", how temperature affects neurons, the speed of neurons, and how electricity can make muscles move!
You will also see demonstrations of our RoboRoach (our remote controlled Cockroach) and preview some new yet-to-be-released devices and experiments. E-mail us at info@backyardbrains.com to sign up!