This is a call to arms for science educators everywhere…
Following the success of our three-day teacher training workshop at the end of 2019, and our Summer 2019 Workshop on Reactions and Reflexes, we want to kick off 2020 with the next FREE workshop open to the public!
This workshop is coming up quick… so reserve your spot soon! Space is limited, but we will work to accommodate as many as we can.
When: January 31st, 9am-6pm
Where: Downtown Ann Arbor, MI.

The Workshop!
As a participant, you will engage in a full day of programming designed to help you on your way to becoming a domain expert in neuroscience education! This workshop will provide an introduction to each of our Flagship products, giving you hands-on experience recording from Invertebrates and the human heart, brain, eyes, and muscles.
Who should attend?
If you are a teacher who wants to bring the cutting edge to your classroom, this is for you! If you aren't content with teaching the same thing over, and over, and over, and over again, we want to support you as you continue to innovate in your classroom.
This workshop is great for:
Middle School Science and STEM
High School Biology (Intro and Advanced)
High School Anatomy and Physiology
Interdisciplinary Courses
Science Dept. Leaders
Administrators seeking the next big thing!
No prior experience with our tools or labs required, but both beginners and old pro's will take away valuable lessons and actionable ideas from the workshop!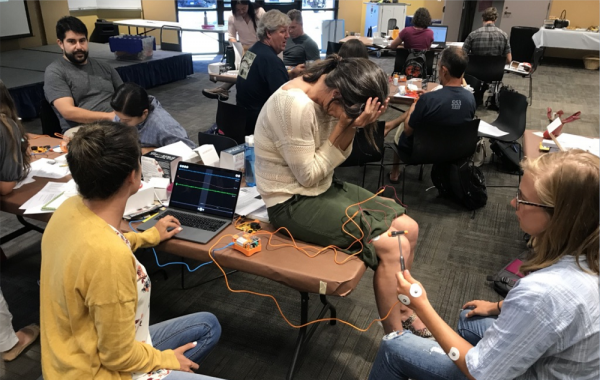 You will learn…
Our first priority is in giving to the skills and knowledge needed to confidently bring these resources back to your classroom to help engage your students in this cutting-edge field of STEM education. You will receive hands-on training with the Backyard Brains tools, you will perform introductory experiments under the guidance of our trained staff and company co-founder, and finally, you will practice presenting your findings and teaching this new content because we believe teaching is the best way to learn.
Glowing Testimonials
We've received glowing feedback from our previous workshops! Here's a few highlights:
"Thank you for the work you are doing to help us bring neuroscience to not just our students, but nationwide. Citizen science is an amazing tool for educators to use in the formation and creation of budding scientists — drawing out both the students that didn't even know they were interested in school, by intriguing and igniting a curiosity they didn't know they had, as well as sparking a new interest in discovery for your standard "good student" as well." – Texas Teacher Attending Dec 2019 Workshop
"This is one of the best workshops I have attended. I am quite 'demanding' in what I expect when I attend for free and attend on a weekend … this workshop FAR exceeded my expectations and the lessons will be incorporated into my curriculum immediately. Thanks for all your efforts!" – California Teacher attending Jul 2019 Workshop

The Cost: Free!?
We know teachers are frugal by necessity, and the last thing you want to include in your request for a PD day and travel expenses for attending a workshop is that glaring "Cost to Attend: $$$" – which is why we offer our teacher training workshops for free!
If you already have gear back in your classroom, great! We will help you become a power-user. If you don't have any Backyard Brains gear yet, we recommend The Toolbox, which contains one of each of our flagship products, which will all be featured in our workshop.