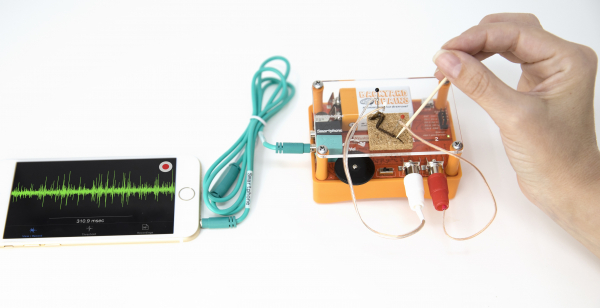 Distance learning just got a lot easier for the 7th grade students of Abington Avenue School (Newark, NJ)! Their teacher Khalil Gordon has recently won $1,000 in Neuron SpikerBox Bundles. More precisely, they will get 13 of BYB research kits that they can use for project-based science learning from the comfort of their PJs!
The funding is part of Society for Science & the Public's STEM Research Grants totaling $100,000, awarded to 100 middle and high school teachers from all across the U.S. They put special emphasis on schools in underserved and underrepresented communities.
This year, the program was geared toward distance learning, striving to provide teachers with resources and tools that facilitate hands-on science labs that students can do at home. As we've already written, a Harvard study has shown how well our bioamplifiers perform in student dorms, living rooms, bedrooms, or just about anywhere.
Neuron SpikerBox and other standards-aligned Remote Labs lie at the intersection of various nerdy disciplines such as biology, electrophysiology, computer science. They are already in use in hundreds of U.S. schools, colleges and other institutions – from elementary to higher education. The tweets speak for themselves!
Congrats to Mr. Gordon! We're looking forward to hearing about his students' scientific discoveries in the classroom – be it remote, in-person, or hybrid. (We can already see the working title of a student project: "The day I got kicked by a cockroach leg.")
Are there any other teacher grants?
Over the year, there are many national and local grants for individuals, schools, and school districts. However, most funding cycles are now over, so we'll drop just a few that you may still apply for. Heed the deadlines though – the clock is ticking!
Donors Choose Grant (public fundraising opportunity) – no deadline, just pitch well and apply anytime
Fund for Teachers (up to $5,000 for individuals or $10,000 for teams; to be used on customizable professional development) – the deadline is January 21st, 2020
The NEA Foundation Learning & Leadership Grants (up to $5,000 for educators who are NEA members; to be used for professional development) – the next deadline is February 28th, 2020
McCarthey Dressman Education Foundation Academic Enrichment Grants (up to $10,000 per year, maximum of $30,000 over three consecutive years; to be used on projects that supplement classroom curriculum or afterschool activities for students from low-income households) – application from January 15th to April 15th or until they reach 350 submissions
Walmart Local Community Grants (up to $5,000 in classroom resources or equipment for K-12 schools) – the application deadline for this cycle is December 31st, 2020
AIAA Foundation Classroom Grant (up to $500 for K-12 teachers to be used on classroom STEM equipment, tools, supplies with an emphasis on aerospace) – the application deadline is January 15th, 2021
Honda Community Grant (up to $75,000 per year for school districts, to be used on classroom equipment or curriculum) – next deadline for new organizations is February 1st, 2021
Lemelson-MIT InvenTeam Initiative (up to $10,000 for high-school teams of teachers and students who need to deploy their STEM expertise to solve a real-life problem with a technological innovation; to be used on related research, materials, and learning experience) – the initial application deadline is June 4th, 2021
NSF Special Programs for K-12 Educators (various programs)