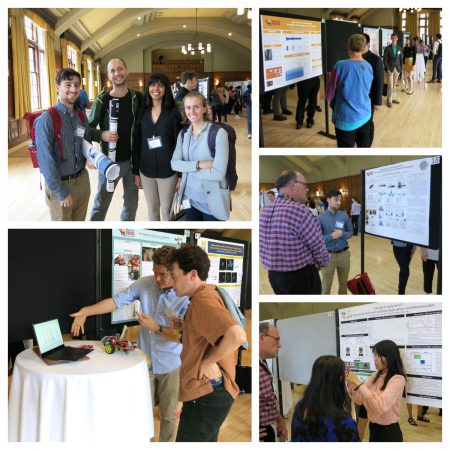 The Backyard Brains 2018 Summer Research Fellowship is coming to a close, but not before we get some real-world scientific experience in! Our research fellows are nearing the end of their residency at the Backyard Brains lab, and they are about to begin their tenure as neuroscience advocates and Backyard Brains ambassadors. The fellows dropped in on University of Michigan's Undergraduate Research Opportunity Program (UROP) Symposium during their final week of the fellowship, and each scientist gave a quick poster presentation about the work they'd been doing this summer! The fellows synthesized their data into the time-honored poster format and gave lightning-round pitches of their work to attendees. BYB is in the business of creating citizen scientists, and this real-world application is always a highlight of our fellowship. Check out their posters below!
Yifan – Songbird Identification
Yifan developed a classifier model that could identify bird songs as a continuation of a University of Michigan team project from the school year.
#1 – Know Your Birds
#2 – Human, Quiet, Crow: Teaching Computers to Distinguish Birdsong
#3 – Volume Threshold for Songbird Audio
#4 – Take a Step Back and look into the future
---
Anastasiya – Jellyfish Behavior
Ana used computer vision techniques to observe and identify the strange behaviors of jellyfish!
#1 – Secret Life of Jellyfish
#2 – Jellies, and GUIs, and Costumes, Oh My!
#3 – On Set in the New Jellyfish Mobile Recording Chamber
#4 – The End of My Jellyfish Summer (Or Is It?)
---
Aaron – EEG Free Will
#1 – Nothing In Life Is Free
#2 – Is It Actually My Choice To Not Title This Post?
#3 – We don't have free will. Change my mind.
#4– Conclusion
---
Maria – EEG Meditation
Maria searched for EEG biomarkers which might indicate whether someone is meditating, or just sitting with their eyes closed CLAIMING to meditate.
#1 – Electric Relaxation
#2 – Meditation Data or Bust
#3 – Fresh, organic, locally sourced meditation research
#4 – Conclusion
---
Anusha – Movement Mind Reader

Anusha was on the hunt for signals from the brain which preceded movement… practically applied, the goal is to control a robotic claw by THINKING about moving your arm!
#1 – Creating Professor X
#2 – In Search of the Mu Rhythm
#3 – …And I Almost Read His Mind!
#4 – Movement Mind Reader: Hopefully not the end…
---
Dan – Mantis Shrimp EMG
Dan recorded EMG signals from the Mantis Shrimp's "mechanically spring-loaded" punch.
#1 – Rock 'Em Sock 'Em…Shrimps?!
#2 – Mantis Shrimp: I Want You To Do Me A Favor. I Want You To Hit Me As Hard As You Can
#3 – Houston, we have a datum
#4 – Shrimp! Heaven! Now!
---
Ilya – Neurorobot
Ilya's Software mentor thought he was focusing on software. His Hardware mentor thought he was focusing on Hardware. Consequently, Ilya built a whole robot.
#1 – Neurorobot Vision
#2 – Neurorobot on Wheels
#3 – Neurorobot Video Transmission In Progress
#4 – Quicker and Smarter: Neurorobot on the Hunt
---
Molly – Honeybee GPS
Molly set up her very own hive and learned some valuable skills as a beekeeper while examining how honeybees find their food!
#1 – Bee-search: How Do Bees See
#2 – Bee-lieve You Can and You're Halfway There: The Prototyping Process
#3 – Beauty is in the eye of the Bee-holder: studies with a hive begin!
#4 – From bee-fuddled to a bee-stower of knowledge: the end of my bee journey
---
Jess B – Silkmoth Pheromones
Jess got down with Moths getting down and recorded e-phys responses from Moth antennae exposed to pheromones.
#1 – No Nose, No Mouth, No Problems: the Silkmoth Story
#2 – Becoming a #MothMom
#3 – Silk Moths, Enter The Arena: Binary Choice Paradigm
#4 – Finishing the Silkmoth Story
---
Jessica S – Plant Habituation
Jessica investigated "Pavlov's Plants," studying Mimosas and Bean Sprouts to learn about plants that learn!
#1 – Introducing Pavlov's…Plants?
#2 – Plant Nanny: If at first you don't succeed, Try, try, try again
#3 – A Peagrim's Progress, or, "Let's get down to pea-zness"
#4 – New kid on the block
---
Ben – Python
Ben ported a lot of MATLAB tools for electrophysiology into Python and, in Backyard Brains fashion, made his work open source.
#1 – Helping Hand: Python
#2 – Summer Summary
---
All of these experiments were performed with DIY tools that we've created here at Backyard Brains. A big part of our mission is proving that you don't need a $10,000 rack of equipment to start performing your own meaningful neuroscience research. If you have questions about our work, or new ideas for projects of your own, feel free to email us at hello@backyardbrains.com! To the Neurorevolution!